Loading...


National Issues



Thursday, May 2, 2013




An Akron lawyer humanizes the plight of Guantanamo clients




Federal public defender Carlos Warner says politics, not legal concerns, are keeping his clients in Guantanamo and keeping him from reaching them


by WKSU's JEFF ST. CLAIR


Reporter / Host
Jeff St. Clair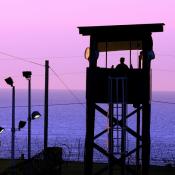 A guard tower is silhouetted against the rising sun at Guantanamo Bay, Cuba. The U.S. facility holds 166 detainees, most captured more than a decade ago during early operations in the war in Afghanistan. The hunger strike protest by 130 detainees began in February.
Courtesy of Gino Reyes, U.S.A.F./ flickr
Download (WKSU Only)
In The Region:
Guantanamo Bay is back on the political front burner as 130 of the 166 detainees enter their third month of a hunger strike.

Many are being force-fed by Army personnel. And these actions are bringing condemnation from international human rights observers, and renewed debate on what to do with these prisoners. WKSU's Jeff St. Clair talks with an Akron lawyer who represents 11 Guantanamo detainees. He says politics, not the law, keeps his clients locked up.
Carlos Warner has been a public defender for 15 years, first with Cuyahoga County, now with the U.S. District Court's Northern District of Ohio.

Warner says he's been to Guantanamo more than 30 times since he was assigned his 11 clients in 2008, but access in 2013 is limited.

"It's proving impossible for us to get to Guantanamo." Warner says sequestration has brought his, and other public defenders' work to a virtual standstill.
Warner says 86 of the 166 detainees in Guantanamo have been legally cleared by an inter-agency task force, but are still under indefinite detention. He and other public defenders have arranged for most of the 86 to be sent to third-party countries, but neither the White House nor Congress have authorized any further releases of Guantanamo detainees.
---
---
---
Stories with Recent Comments