Loading...


Economy and Business



Thursday, May 2, 2013




Foreclosures are down in Ohio for third-consecutive year




Bank take overs drop by more than a third in some counties since 2008




by WKSU's GRANT ENGLE


Reporter
Grant Engle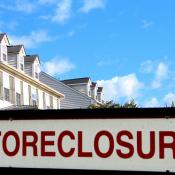 Ohio's foreclosure rates continue to fall, a good sign given that it was "Ground Zero."
Courtesy of Andrew Taber/Flickr
Download (WKSU Only)
In The Region:
Home foreclosures in Ohio have decreased for three straight years, according to a report from the Ohio Supreme Court. The report says there were more than 70,000 foreclosure cases in 2012, down 2 percent from 2011 and down more than 17 percent from the height of the mortgage crisis in 2008. Stark County had one of the most drastic decreases over the last five years, as foreclosures have dropped by more than one-third. Guy Cecala is the CEO of Inside Mortgage Finance Publications – a company that focuses on residential mortgage statistics and news. He says Ohio is in line with the national trend in the housing market.
"Ohio is significant in that it's kind of ground zero for foreclosures – other than maybe Michigan – it's tended to have one of the worst track records, which means the highest rate of foreclosure. So, it's a very positive sign to see some break in the foreclosures and see that moving downward."
Cecala says the country has seen fairly rapid declines in foreclosures, and mortgage experts are eager to see if that continues while jobs grow at a much lower rate.


| | | | | | | | | |
| --- | --- | --- | --- | --- | --- | --- | --- | --- |
| County | 2008 | 2009 | 2010 | 2011 | 2012 | | 2012 over 2011 | 2012 over 2008 |
| Adams | 155 | 163 | 130 | 95 | 134 | | 41% | -13.55% |
| Allen | 996 | 690 | 682 | 472 | 462 | | -2% | -53.61% |
| Ashland | 282 | 348 | 319 | 249 | 217 | | -13% | -23.05% |
| Ashtabula | 782 | 802 | 759 | 708 | 641 | | -9% | -18.03% |
| Athens | 169 | 192 | 161 | 147 | 141 | | -4% | -16.57% |
| Auglaize | 227 | 262 | 248 | 216 | 204 | | -6% | -10.13% |
| Belmont | 220 | 228 | 265 | 205 | 200 | | -2% | -9.09% |
| Brown | 371 | 385 | 407 | 294 | 304 | | 3% | -18.06% |
| Butler | 2,987 | 3,162 | 3,166 | 2,544 | 2,489 | | -2% | -16.67% |
| Carroll | 122 | 168 | 170 | 132 | 115 | | -13% | -5.74% |
| Champaign | 256 | 318 | 293 | 224 | 247 | | 10% | -3.52% |
| Clark | 1,124 | 1,104 | 1,067 | 881 | 927 | | 5% | -17.53% |
| Clermont | 1,285 | 1,342 | 1,402 | 1,153 | 1,265 | | 10% | -1.56% |
| Clinton | 291 | 397 | 330 | 264 | 302 | | 14% | 3.78% |
| Columbiana | 636 | 702 | 681 | 534 | 448 | | -16% | -29.56% |
| Coshocton | 180 | 187 | 163 | 317 | 183 | | -42% | 1.67% |
| Crawford | 337 | 312 | 304 | 262 | 257 | | -2% | -23.74% |
| Cuyahoga | 13,858 | 14,171 | 12,825 | 11,544 | 11,427 | | -1% | -17.54% |
| Darke | 310 | 311 | 273 | 198 | 218 | | 10% | -29.68% |
| Defiance | 183 | 198 | 225 | 191 | 147 | | -23% | -19.67% |
| Delaware | 909 | 1,003 | 989 | 886 | 788 | | -11% | -13.31% |
| Erie | 562 | 539 | 548 | 444 | 478 | | 8% | -14.95% |
| Fairfield | 964 | 1,019 | 963 | 795 | 841 | | 6% | -12.76% |
| Fayette | 216 | 235 | 201 | 181 | 185 | | 2% | -14.35% |
| Franklin | 9,305 | 9,499 | 9,649 | 7,834 | 7,702 | | -2% | -17.23% |
| Fulton | 216 | 273 | 251 | 222 | 173 | | -22% | -19.91% |
| Gallia | 95 | 82 | 113 | 100 | 104 | | 4% | 9.47% |
| Geauga | 435 | 508 | 497 | 463 | 416 | | -10% | -4.37% |
| Greene | 773 | 851 | 817 | 765 | 732 | | -4% | -5.30% |
| Guernsey | 210 | 221 | 188 | 198 | 146 | | -26% | -30.48% |
| Hamilton | 6,673 | 6,714 | 6,556 | 5,834 | 5,667 | | -3% | -15.08% |
| Hancock | 436 | 534 | 503 | 336 | 352 | | 5% | -19.27% |
| Hardin | 210 | 185 | 173 | 172 | 144 | | -16% | -31.43% |
| Harrison | 81 | 70 | 81 | 56 | 45 | | -20% | -44.44% |
| Henry | 146 | 183 | 162 | 111 | 109 | | -2% | -25.34% |
| Highland | 351 | 381 | 307 | 262 | 278 | | 6% | -20.80% |
| Hocking | 178 | 166 | 201 | 152 | 145 | | -5% | -18.54% |
| Holmes | 109 | 103 | 117 | 105 | 69 | | -34% | -36.70% |
| Huron | 396 | 423 | 382 | 303 | 336 | | 11% | -15.15% |
| Jackson | 198 | 228 | 207 | 157 | 133 | | -15% | -32.83% |
| Jefferson | 297 | 308 | 338 | 280 | 245 | | -13% | -17.51% |
| Knox | 405 | 453 | 502 | 421 | 427 | | 1% | 5.43% |
| Lake | 1,517 | 1,695 | 1,760 | 1,609 | 1,590 | | -1% | 4.81% |
| Lawrence | 260 | 260 | 252 | 216 | 257 | | 19% | -1.15% |
| Licking | 1,204 | 1,178 | 1,188 | 983 | 960 | | -2% | -20.27% |
| Logan | 323 | 340 | 328 | 278 | 267 | | -4% | -17.34% |
| Lorain | 2,442 | 2,696 | 2,385 | 1,742 | 1,859 | | 7% | -23.87% |
| Lucas | 4,359 | 4,491 | 4,232 | 3,237 | 3,030 | | -6% | -30.49% |
| Madison | 198 | 273 | 201 | 146 | 178 | | 22% | -10.10% |
| Mahoning | 1,836 | 1,755 | 1,819 | 1,381 | 1,360 | | -2% | -25.93% |
| Marion | 531 | 584 | 541 | 388 | 382 | | -2% | -28.06% |
| Medina | 961 | 1,155 | 1,098 | 906 | 845 | | -7% | -12.07% |
| Meigs | 75 | 74 | 71 | 60 | 61 | | 2% | -18.67% |
| Mercer | 142 | 154 | 161 | 117 | 124 | | 6% | -12.68% |
| Miami | 590 | 741 | 676 | 543 | 520 | | -4% | -11.86% |
| Monroe | 38 | 33 | 32 | 31 | 13 | | -58% | -65.79% |
| Montgomery | 5,194 | 4,703 | 4,673 | 3,924 | 3,750 | | -4% | -27.80% |
| Morgan | 37 | 85 | 64 | 48 | 33 | | -31% | -10.81% |
| Morrow | 261 | 242 | 291 | 207 | 205 | | -1% | -21.46% |
| Muskingum | 563 | 450 | 530 | 425 | 432 | | 2% | -23.27% |
| Noble | 38 | 32 | 126 | 48 | 66 | | 38% | 73.68% |
| Ottawa | 273 | 262 | 272 | 183 | 195 | | 7% | -28.57% |
| Paulding | 126 | 151 | 113 | 77 | 75 | | -3% | -40.48% |
| Perry | 217 | 234 | 217 | 214 | 181 | | -15% | -16.59% |
| Pickaway | 318 | 339 | 297 | 272 | 284 | | 4% | -10.69% |
| Pike | 129 | 104 | 121 | 91 | 105 | | 15% | -18.60% |
| Portage | 874 | 935 | 991 | 792 | 771 | | -3% | -11.78% |
| Preble | 374 | 370 | 384 | 330 | 304 | | -8% | -18.72% |
| Putnam | 104 | 100 | 109 | 86 | 81 | | -6% | -22.12% |
| Richland | 862 | 903 | 798 | 717 | 736 | | 3% | -14.62% |
| Ross | 416 | 518 | 424 | 349 | 371 | | 6% | -10.82% |
| Sandusky | 321 | 408 | 325 | 268 | 294 | | 10% | -8.41% |
| Scioto | 304 | 324 | 325 | 273 | 345 | | 26% | 13.49% |
| Seneca | 316 | 331 | 355 | 296 | 280 | | -5% | -11.39% |
| Shelby | 250 | 303 | 291 | 274 | 245 | | -11% | -2.00% |
| Stark | 3,017 | 2,700 | 2,549 | 2,124 | 2,020 | | -5% | -33.05% |
| Summit | 4,113 | 4,633 | 4,320 | 3,658 | 3,794 | | 4% | -7.76% |
| Trumbull | 1,481 | 1,605 | 1,413 | 1,161 | 1,249 | | 8% | -15.67% |
| Tuscarawas | 389 | 453 | 409 | 340 | 334 | | -2% | -14.14% |
| Union | 320 | 338 | 340 | 291 | 305 | | 5% | -4.69% |
| Van Wert | 201 | 207 | 156 | 133 | 147 | | 11% | -26.87% |
| Vinton | 43 | 65 | 56 | 41 | 37 | | -10% | -13.95% |
| Warren | 1,306 | 1,498 | 1,450 | 1,242 | 1,135 | | -9% | -13.09% |
| Washington | 173 | 201 | 154 | 152 | 156 | | 3% | -9.83% |
| Wayne | 462 | 588 | 493 | 356 | 431 | | 21% | -6.71% |
| Williams | 199 | 273 | 230 | 143 | 143 | | 0% | -28.14% |
| Wood | 582 | 750 | 727 | 610 | 594 | | -3% | 2.06% |
| Wyandot | 98 | 107 | 121 | 84 | 82 | | -2% | -16.33% |
| Statewide | 85,773 | 89,061 | 85,483 | 71,553 | 70,469 | | -2% | -17.84% |
---
---
---
Stories with Recent Comments