Loading...



From WKYC.COM / TV 3
Get the latest school closings and delays


Funding for WKSU is made possible in part through support from the following businesses and organizations.
---
For more information on how your company or organization can support WKSU, download the WKSU Media Kit.

(WKSU Media Kit


)
---

Sports



Thursday, May 2, 2013




LeBron James donates $1 million to St. Vincent-St. Mary




The money will be going toward renovations of the school's gym


by WKSU's KABIR BHATIA


Reporter
Kabir Bhatia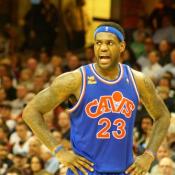 LeBron James was named MVP twice during his 7 years with the Cavs, but would not win a championship until 2012 with the Miami Heat
Courtesy of Brandon Davis
Download (WKSU Only)
In The Region:
LeBron James has donated $1 million to renovate the gym at his alma mater, St. Vincent-St. Mary High School in Akron. The Beacon Journal reports that the renamed LeBron James Arena will have new lighting, bleachers, training rooms and a regulation-sized floor. The gym, which opened in 1959, is currently one foot short on either end. The former Cleveland Cavalier and three-time MVP is marshaling the Miami Heat through the playoffs.

Completion of the new gym is slated for this November.
---
---