Bill Cohen spent four years reporting for WOSU, covering Columbus City Hall and the school board before moving over to cover the Ohio Statehouse in 1975. And he acknowledges, it was an intimidating move and an intimidating place.
Money and power
"There was the century-old history of the place, the tall stone arches, the complex issues."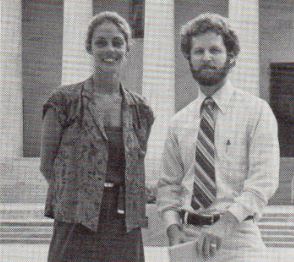 And the complex personalities, even legends, like Gov. James Rhodes and the long-time, strong-arm speaker of the House, Vern Riffe.
"Riffe stayed in power 20 years by consolidating virtually all the campaign money from special interests and handling it and committee chairmanships only to those loyal to him."
He once confided to Cohen that he lived by his dad's advice.
"'Be in charge of the jobs and be in charge of the money. If you're in charge of the jobs and the money, they can't oust you.'"
A statewide voice
In 1980, the Statehouse coverage went statewide, through a bureau set up for all Ohio Public Radio stations and it's fed daily stories ever since.
'Keep your eyes and ears on the state officials you've elected. ... They're making decisions that impact your school, your job, your neighborhood and your wallet.'
Cohen says the big stories came quickly, including the 1983 state budget crisis and new Gov. Dick Celeste pushing through a so-called 90 percent income tax hike. Cohen has tape of Celeste making his case.
"'Our citizens are tired of politicians who play the game of temporary taxes. Let's stop playing pretend with taxes.'
"Two years, later a savings and loan crisis, and a shut down of 70 privately insured S&Ls."
Governors changed and so did themes. George Voinovich and his "government must do more with less." Bob Taft, Ted Strickland.
Then came Kasich

"And then a governor I think has generated the most news because he's pushed for such big changes," John Kasich. Cohen plays one of many impassioned Kasich clips:
"We march over time to destroy that income tax that has sucked the vitality out of this state."
But, Cohen says, "Even the losers have been fascinating to cover," including Jerry Springer, a 1982 Democratic candidate for governor who went onto TV show fame.
Stepping outside Columbus
But he says some of the biggest stories happened away from the Statehouse.
"In the late 70s, there was a natural gas shortage and a week of 20 below zero temperatures one winter. And the next, there was a blizzard and frozen coal piles, sparking an electricity shortage.
"I recall a surrealistic scene in the governor's cabinet room; the adjutant general with this advice: 'If your power's out and you're about to freeze to death, survive this way. 'Use your blankets, if necessary, four or five people together, plastic under your mattress. Huddle together, your body heat holds for a long time.'"
And one of the most prominent stories away from Columbus was the deadly riot that broke out at the prison in Lucasville in 1993. Cohen still has the tape of the prisoners over the bullhorn: ' We are not going to bow down. We are not going to give up. We are going to remain. If we die, we die.'
Not quite so far away
"I've stood on the Statehouse steps and watched freedom of speech in action over the decades," says Cohen.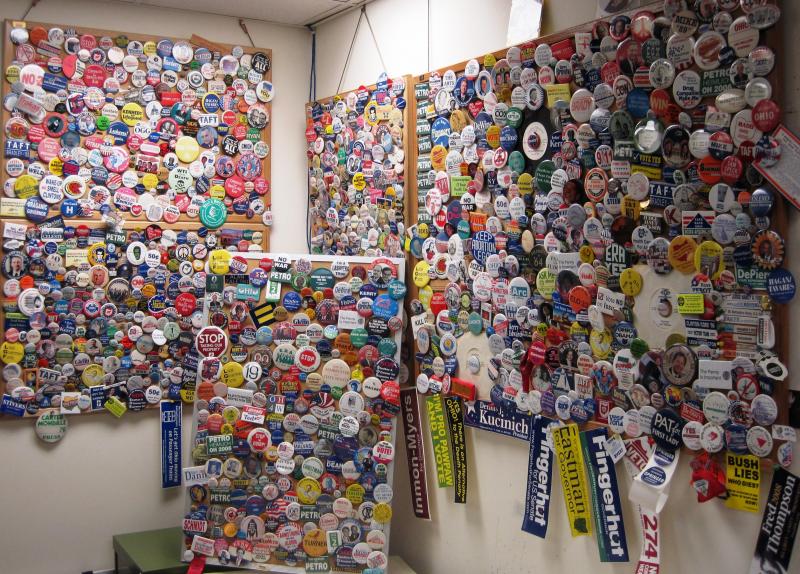 "Environmentalists, poor people, bank depositors, disabled people, students, anti-tax activists, advocates on both sides of the gun and abortion issues, they've all had their say."
The most massive demonstration, though, was the turnout two years ago by thousands of labor union members protesting S.B. 5, the proposal to slash the bargaining clout of public employee unions.
"And who could forget one of the most unusual protests. Young women wearing pink T-shirts with the slogan, 'Dancers for Democracy.' They charged a new law limiting their nude dancing would kill their jobs."
Said one: "'It's time to stop legislating morality and start helping businesses grow.'"
Cohen remembers one protest in the mid 1990s, when Ku Klux Klan members touted white power on the Capitol steps and were outnumbered by hundreds of jeering counter-protesters.
"I wore a motorcycle helmet so I would be hit by flying bricks of bottles."
The people of government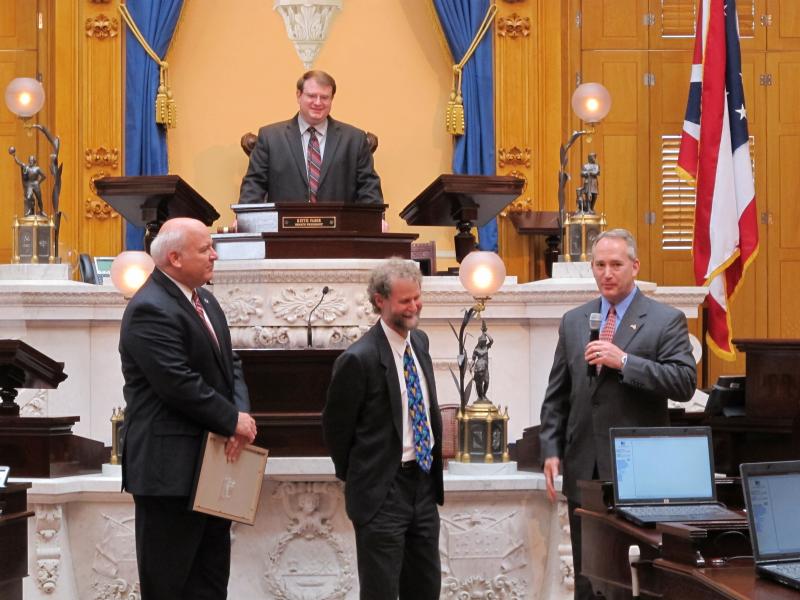 "Over the decades, I've covered dozens of issues, taxes, crime, discrimination, pollution, aids school funding, capital punishment and more. Committees have been good to cover since that's where bills get beefed up, watered down or killed. And House and Senate floor debates have sometimes been fascinating.
"But I've especially loved covering ballot issues," says Cohen, "the ones placed there by citizens petition drives so voters become temporary lawmakers."
With such issues, Cohen says, you get "pure debate over public policy, not a candidates' quirks," and he's been able to cover the arguments, TV ad strategies and the big money campaigns behind a long list of issues:
"Animal traps, smoking, deposits on pop cans, payday loans, tax changes, gay marriage, term limits, bullet trains, casinos, the hunting of mourning doves."
Thank you and keep your eye out
"The topics may be varied, but over the years, you've hopefully picked up the underlying theme. Keep your eyes and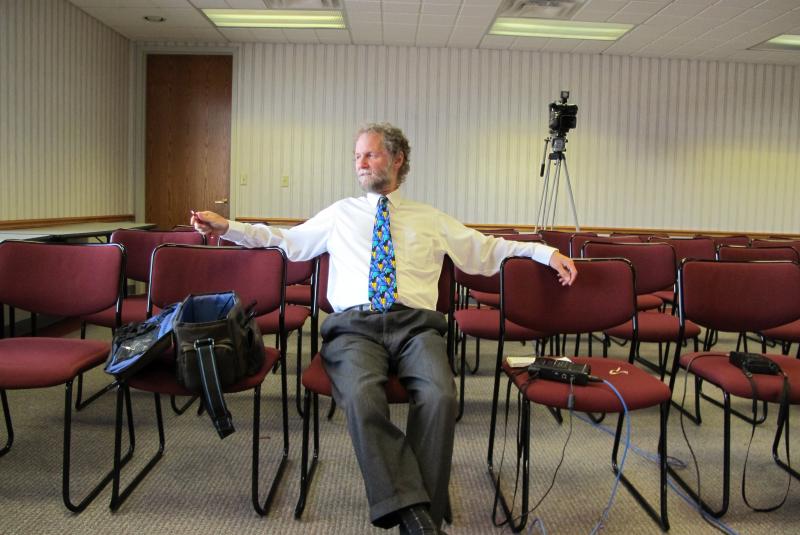 ears on the state officials you've elected. They're spending tens of billions of dollars of your tax money every year. And they're making decisions that impact your school, your job, your neighborhood and your wallet.
"Of course, as public radio listeners, you already know that. That's why you listen and why I've been proud to work for you. Thanks so very much for listening."

HERE'S MORE ON BILL COHEN FROM THE COLUMBUS DISPATCH.