Loading...


Courts and Crime



Tuesday, May 7, 2013




Amanda Berry, Gina DeJesus, Michelle Knight found in Cleveland home




Three men in custody after missing women were found a decade after disappearing


by WKSU's AMANDA RABINOWITZ


Morning Edition Host
Amanda Rabinowitz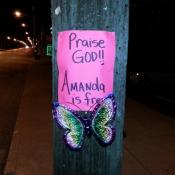 A sign hung from a pole near the home where Amanda Berry, Gina DeJesus, and Michelle Knight were found.
Courtesy of Terrence Lee, WEWS
Download (WKSU Only)
In The Region:
We'll learn more details today about Amanda Berry, Gina DeJesus and Michelle Knight. Each had been missing for about a decade. Cleveland police have a press conference scheduled for 9:00 a.m. this morning.

They've been searching the West Side home at 2207 Seymour Avenue throughout the night where it's believed the women have been held captive since their disappearances.
Cleveland's police chief says he thinks three women who went missing separately a decade ago were tied up in the house. A neighbor, Charles Ramsey, said he heard a girl screaming inside 52-year old Ariel Castro's house and called 911. He helped Berry escape through a broken door along with a child.

Castro is being held by police, along with two brothers.

Amanda Berry, now 27, had been missing since 2003, when she was 16 years old. DeJesus disappeared in 2004 and is now 23. Knight is 30.
---
---
---
Stories with Recent Comments