Loading...


Courts and Crime



Tuesday, May 7, 2013




Cleveland neighborhood rejoices, but wonders why it took so long




They hope for the women's mental state and that this can just become a bad memory




by WKSU's AMY COOKNICK




and

M.L. SCHULTZE



Reporter
Amy Cooknick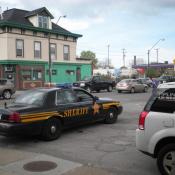 Much of Seymour Avenue, where three women are believed to have been held for 10 years, has been blocked off while FBI agents search the house.
Courtesy of AMY COOKNICK
Download (WKSU Only)
In The Region:
For most of the day, police had cordoned off Seymour Avenue on Cleveland's near west side, as they continued to investigate how three girls were abducted and kept hidden within a few miles of their homes for 10 years. A crowd of reporters and spectators gathered, as did people who grew up and live in the neighborhood and had long wondered what happened to Amanda Berry, Michelle Knight and Gina DeJesus. DeJesus was the youngest, just 14, when she disappeared on her way home from middle school in April of 2004. Joshua Rybka grew up in the largely Hispanic neighborhood, and helped raise money to try to continue the search for DeJesus after police leads seemed to grow cold. His reaction to the women's release is joy, albeit tempered.
"For me, it's a big relief for families that their daughters or niece, whoever they are to the family, they get to come home and see them. They're all alive and well and they can just come home and keep this in the past as a bad memory and move on with life."
The three women were freed Monday night after Berry broke through the front door and a neighbor helped her escape. Police found the other two women inside. A 6-year-old girl identified as Berry's daughter was also in the house.
Three brothers, all in their 50s, have been arrested. They're Ariel, Pedro and Onil Castro.



Here's the timeline of the case of three Cleveland women who vanished from their near west-side neighborhood a decade ago and were found Monday in a home some two miles away.
Aug. 23, 2002: Michelle Knight disappears from her cousin's house near W. 106th Street and Lorain Avenue. She's legally an adult, and police speculate that she left because she'd lost temporary custody of her son. Her mother never believed that.
April 21, 2003: 16-year-old Amanda Berry never returns from work at a Burger King on Lorain and West 110th Street. Her mother, Louwana Miller, begins a search for her daughter that ends only when the 44-year-old Louwana dies in 2006.
January 2004: Ariel Castro is a school bus driver. Police go to his home at 2207 Seymour Ave. after Child and Family Services tells them he had left a child unattended on a bus. Police decide there was no criminal intent.
April 2, 2004: Georgina "Gina" DeJesus, 14, disappears while walking home from Wilbur Wright Middle School where she attended special education classes. She's last seen at the corner of Lorain Avenue and 105th Street.
2005: Police and FBI agents continue the investigation, offering a $20,000 reward for details that lead to discovery of DeJesus or Berry.
April 2009: The FBI broadens its investigation to include another girl, 14-year-old Ashley Summers, who had disappeared in 2007. She later contacts her family.Police also test the DNA on a body found in Wisconsin.
January 2013: Convicted killer and inmate Robert Wolford is sentenced to 4 ½ years on of obstruction of justice and other charges. He gave police a false tip that said Berry's body was buried on a vacant lot in Cleveland. Police spent 18 hours searching the lot.
May 6, 2013: Berry breaks through a screen door of the house on Seymour with the help of neighbors and escapes with a 6-year-old girl she identifies on the 9-1-1 call as her daughter. Police respond and find Knight and DeJesus inside.
Three brothers, Ariel Castro, Pedro Castro and Onil Castro, are arrested and police are preparing charges and expecting the case to go to the Cuyahoga County grand jury.
May 7, 2013: The women, Berry, now 27; DeJesus, now 23, and Michelle Knight, believed to be 32, are released from MetroHealth Medical Center.
---
---
---
Stories with Recent Comments