Loading...


Courts and Crime



Wednesday, May 8, 2013




Ariel Castro faces kidnapping and rape charges; brothers are cleared




Police say more charges could be filed against the Cleveland man, but not his brothers


by WKSU's M.L. SCHULTZE


Web Editor
M.L. Schultze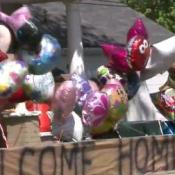 On the same day two of the abducted women went home, Ariel Castro was charged with imprisoning them for a decade.
Download (WKSU Only)
In The Region:
A 52-year-old Cleveland man will be arraigned tomorrow on four counts of kidnapping and three of rape in the case of three women missing for a decade. But no charges will be filed against the brothers of Ariel Castro. Ariel Castro owns the house on Seymour Avenue in Cleveland where police believe three women had been imprisoned for a decade. One of the women, Amanda Berry, escaped from the house Monday night with her 6-year-old daughter. Prosecutor Victor Perez says two of the kidnapping charges are related to Berry and the girl. The other two are related to Gina DeJesus and Michelle Knight. And Castro is accused of raping all three women, two of whom were teen-age girls when they disappeared from near their homes on Cleveland's near-west side. Police say Castro waived his Miranda rights and has answered questions since he was taken into custody Monday night. His brothers also were arrested Monday, but Perez said no charges will be filed against either of them.
---
---
---
Stories with Recent Comments