Amanda Berry, Gina DeJesus and Michelle Knight all disappeared on Cleveland's west side about 10 years ago, and many people figured they would never be found alive. But this week, Berry flagged down a neighbor who helped her escape from the Seymour Avenue house where police say she had been held captive the whole time. City Prosecutor Victor Perez has charged the home's owner, Ariel Castro, with four counts of kidnapping and three counts of rape.
"These seven criminal complaints are first-degree felonies. The defendant will be arraigned in Cleveland Municipal Court, and the case will go to a Cuyahoga County grand jury. I expect indictments on these charges and possibly more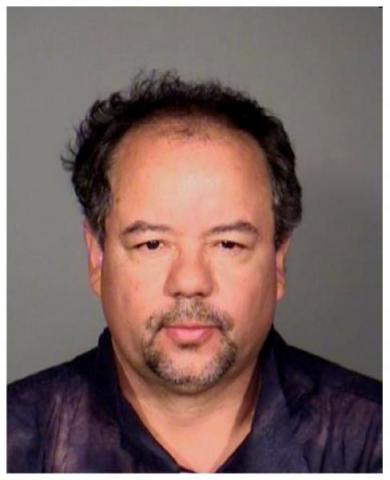 Suspect:Ariel Castro, 52.

Divorced with a history of domestic violence. Complaint by former wife, Grimilda Figueroa, accused him of breaking her bones and threatening to kill her. Figueroa died last year.

Castro was a Cleveland school bus driver until last year, when he was fired for leaving his bus unattended while he went home. He had been suspended several times, including once for leaving a child stranded on the bus and for using his bus to do grocery shopping.

The house on Seymour Avenue owned by Castro was in foreclosure for nonpayment of taxes.
charges."
Prosecutor says Ariel Castro acted alone
Perez says Castro acted alone, and his brothers Pedro and Onil knew nothing about the captive women. But the two will be arraigned on unrelated outstanding misdemeanor warrants.

Cleveland police will not discuss details of the ongoing investigation, but say Ariel Castro is cooperating. Deputy Chief Ed Tomba says more than 200 pieces of evidence have been removed from Castro's house, which he describes as being in "disarray." Police have reported that chains and ropes were found inside, and that the women were bound. They reportedly left the house -- only to go as far as the garage -- just twice during their decade of captivity.

Tomba says it's still unknown how the women went undetected for so long.
"We don't know yet if they were drugged. After interviewing the ladies, we found the only opportunity to escape was the other day when Amanda escaped. They weren't in the same room, but they did know the others were there."
A child born during the imprisonment
Police do say while she was in captivity, Amanda Berry gave birth to her 6-year-old daughter in an inflatable swimming pool. The fourth kidnapping charge is related to the child. Her paternity is being investigated
Following announcement of the charges, Scott Hodge, a West 71st Street neighbor of the former captive, Gina DeJesus, says he expects more.
"I think these charges are preliminary, the case is ongoing and more will come. The case is too new to determine the extent of everything that's gone on in that house during the last decade."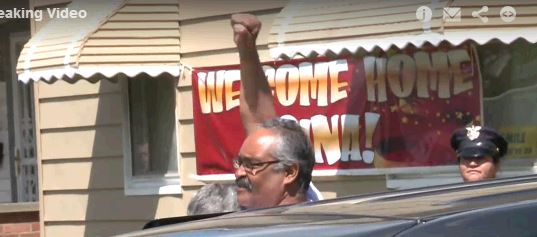 Meanwhile, DeJesus and Berry returned to their homes Wednesday for the first time after disappearing some 10 years ago. Both women were welcomed by throngs of family and friends. The third, woman, Michelle Knight remains hospitalized.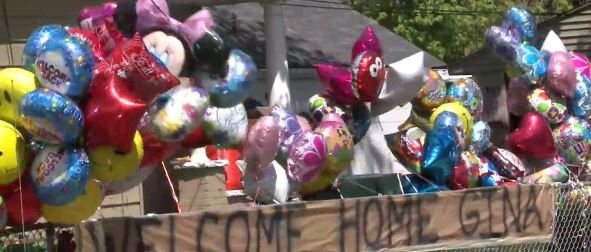 Here's the timeline of the case of three Cleveland women who vanished from their near west-side neighborhood a decade ago and were found Monday in a home some two miles away.
Aug. 23, 2002: Michelle Knight disappears from her cousin's house near W. 106th Street and Lorain Avenue. She's legally an adult, and police speculate that she left because she'd lost temporary custody of her son. Her mother never believed that.
April 21, 2003: 16-year-old Amanda Berry never returns from work at a Burger King on Lorain and West 110th Street. Her mother, Louwana Miller, begins a search for her daughter that ends only when the 44-year-old Louwana dies in 2006.
January 2004: Ariel Castro is a school bus driver. Police go to his home at 2207 Seymour Ave. after Child and Family Services tells them he had left a child unattended on a bus. Police decide there was no criminal intent.
April 2, 2004: Georgina "Gina" DeJesus, 14, disappears while walking home from Wilbur Wright Middle School where she attended special education classes. She's last seen at the corner of Lorain Avenue and 105th Street.
2005: Police and FBI agents continue the investigation, offering a $20,000 reward for details that lead to discovery of DeJesus or Berry.
April 2009: The FBI broadens its investigation to include another girl, 14-year-old Ashley Summers, who had disappeared in 2007. She later contacts her family.
Police also test the DNA on a body found in Wisconsin.
January 2013: Convicted killer and inmate Robert Wolford is sentenced to 4 ½ years on of obstruction of justice and other charges. He gave police a false tip that said Berry's body was buried on a vacant lot in Cleveland. Police spent 18 hours searching the lot.
May 6, 2013: Berry breaks through a screen door of the house on Seymour with the help of neighbors and escapes with a 6-year-old girl she identifies on the 9-1-1 call as her daughter. Police respond and find Knight and DeJesus inside.
Three brothers, Ariel Castro, Pedro Castro and Onil Castro, are arrested. Police prepare charges.
May 7, 2013: The women, Berry, now 27; DeJesus, now 23, and Michelle Knight, 32, are released from MetroHealth Medical Center.
May 8, 2013: Amanda Berry and Gina DeJesus return home. Knight is readmitted to Metrohealth in good condition.
Ariel Castro is charged with four counts of kidnapping and three of rape. Brothers Pedro and Onil are cleared of all charges and release.
May 9, 2013: Ariel Castro is to be arraigned in Cleveland Municipal Court, where the case is expected to be turned over the Cuyahoga County Common Pleas Court.