From Goodyear's new parking deck, you can see the empty land where the world headquarters of General Tire once stood. That building was razed when the company moved south. The late 80's and early 90's saw other rubber companies exit the city.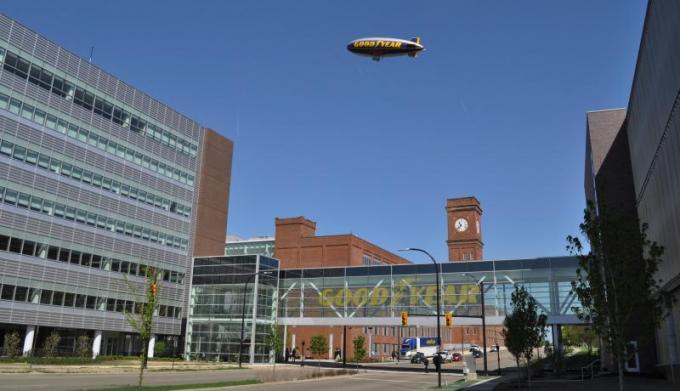 But their research and work with polymers did stay behind. And Goodyear Chairman Richard Kramer now calls Akron the "Innovation Capital," something Lt. Gov. Mary Taylor, an Akron native, likes hearing.
"Goodyear is an innovative company and you look at so many companies in the area, what the University of Akron is doing, innovative new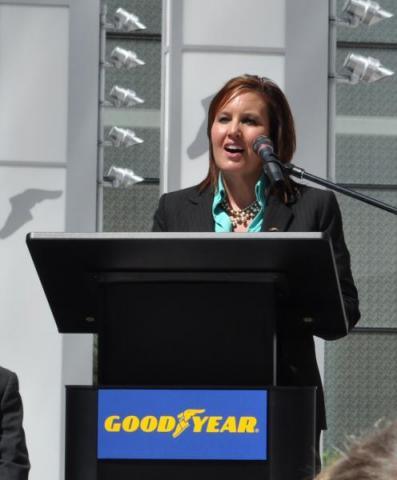 technologies. That's probably an appropriate title."
Multiplication of jobs and image
The new headquarters was built adjacent to the company's technical center on what used to be called Martha Avenue. Now, it's called Innovation Way. The state, county and city all helped Goodyear with tax breaks and other incentives. Summit County Executive Russ Pry says it was worth it because the 3,000 Goodyear workers here have a multiplier effect on the economy.

"About seven or eight other jobs [per Goodyear worker]: restaurants, dry cleaners, automobiles mechanics, insurance companies. So it's professional services, regular services that get supported by the people who work here."
Added Akron Mayor Don Plusquellic the multiplier applies to intangibles, too.
"The immeasurable is the impact in a positive way for the community's image, to look at this facility's being here and attracting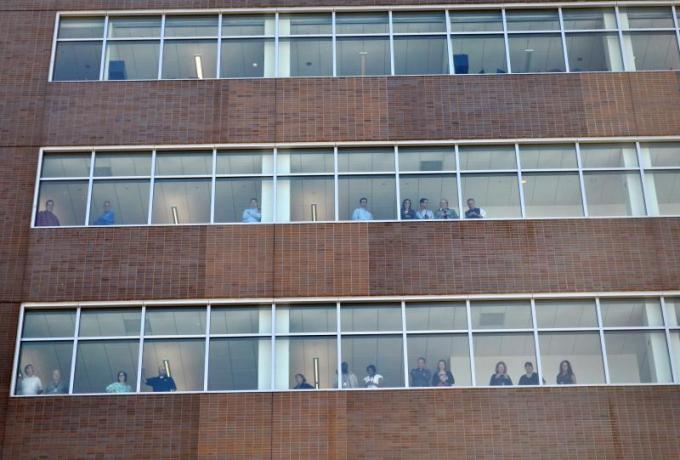 the best and the brightest young people, researchers as well."
An integrated history
The roots of rubber companies like Goodyear run deep in the city. Just talk to city Planning Director Marco Sommerville, who got one of his first jobs at Goodyear – following his father who worked there.
"My great-grandfather also worked here, told his brothers in Alabama about jobs in Akron and they all moved here – about eight of them. And they all retired from Goodyear. So Goodyear has had a major impact on our lives in this community."
City and county officials both say having a Fortune 500 headquarters like Goodyear, along with other international companies helps them attract new employers.

"Success breeds success" said Pry.

Built for spontaneous success
Goodyear Chairman Kramer thinks the building will help with that success. It has large, open rooms with lots of light and places people can meet. For the first time, the headquarters is attached to the 1915 red brick technical center – where race tires are still made -- and the two buildings now share a cafeteria.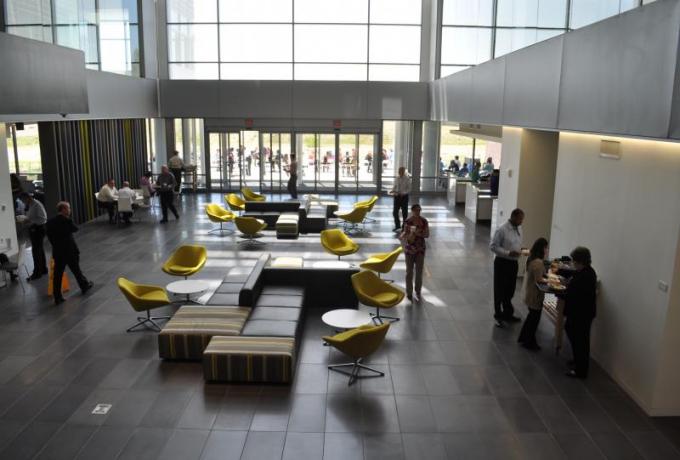 He recalled a conversation with Goodyear's chief financial officer, who was working on a project with someone he bumped into in the cafeteria. "''We talked through something; it took us five minutes. We would have had to schedule a meeting before. It would have taken a week to get it on the calendar. Here we resolved it in the lunch line.'"
Solutions drawn on napkins, says Kramer: "It happens. It does!"
Not out with the old
One more benefit to the local economy could come from new use for the old Goodyear headquarters.

Developer Stu Lichter from the California-based IRG bought the old complex just north of Interstate 76 and is turning it into
housing and office space. He built the new one headquarters just across the expressway.

The new HQ cost about $110 million; the new parking deck about $30 million and renovating the old complex, another $30 million.
"A lot of money was spent here," Lichter laughed, "a lot of money was pumped into this economy."
And both company and community officials say they're both getting good traction out of the development.