Loading...



From WKYC.COM / TV 3
Get the latest school closings and delays


Funding for WKSU is made possible in part through support from the following businesses and organizations.
---
For more information on how your company or organization can support WKSU, download the WKSU Media Kit.

(WKSU Media Kit


)
---

Courts and Crime



Friday, May 10, 2013




Akron searches for missing woman in the shadow of Cleveland's experience




19-year-old Taylor Robinson has been missing since May 3


by WKSU's MARK URYCKI


Reporter
Mark Urycki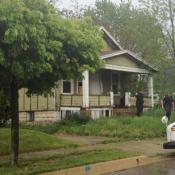 Akron police crawled through the window of this house. They searched other houses and an open field.
Courtesy of urycki
Download (WKSU Only)
In The Region:
With all the attention focused on three Cleveland women who were found at a locked house this week, Akron police are pursuing their own search for a missing woman.

This afternoon, four Akron squad cars and a police van rushed to the 700 block of McKinley Avenue and police crawled through several vacant houses. Last Friday, just one block away, 19-year-old Taylor Robinson disappeared after working overnight as an in-house health aide. Today's search by police turned up nothing.
---
---