Loading...


Arts and Entertainment



Sunday, May 12, 2013




The Cleveland Orchestra heads across town to Gordon Square




First-of-its-kind, week-long residency brings the sounds of Severance to the west side of Cleveland for the first time since 1980


by WKSU's KABIR BHATIA


Reporter
Kabir Bhatia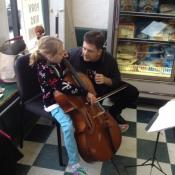 Cellist Paul Kushious helped kick-off the Cleveland Orchestra's residency in Gordon Square, which blossomed from impromptu combos at the Happy Dog to a week-long stay in the neighborhood culminating in Thursday's concert at St. Colman's
Courtesy of K. Bhatia
Download (WKSU Only)
In The Region:
For the first time ever, the Cleveland Orchestra is holding a residency -- in a neighborhood. WKSU's Kabir Bhatia reports on the orchestra's stay this week in Cleveland's Gordon Square.
The week-long residency kicked off this weekend at a slew of shops along Detroit Avenue on Cleveland's west side. At the Stockyard Meat market, cellist Paul Kushious engaged Nayeli Petrik, a 5-year-old violinist who sat spellbound for almost half an hour. Her mother, Citlalli, says the intimate performance was a nice change from heading to Severance Hall.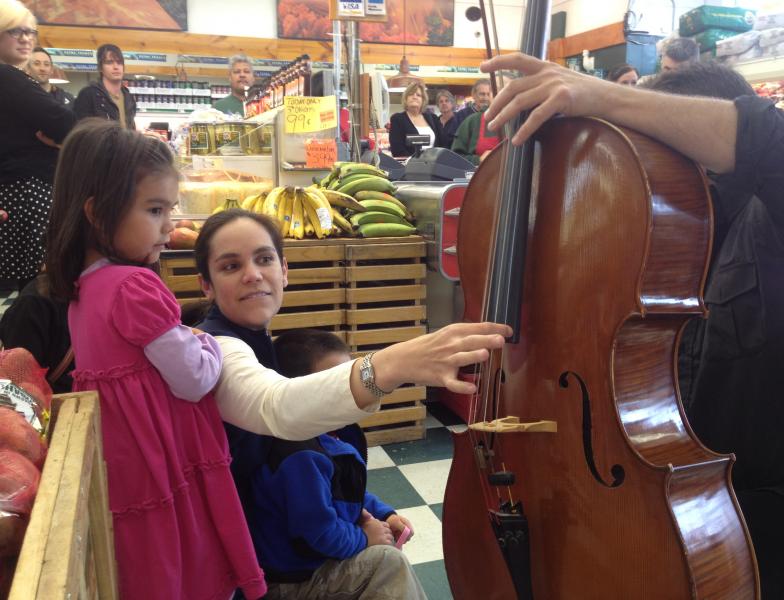 "It's nice for her to see the actual playing. Right now, she's doing the basics and I'm trying to show her this is what you could accomplish."

Good for the Orchestra
Kushious, with the orchestra for 18 years, says, "We've been a slightly hide-bound institution. Severance is a great office to work in, but people are intimidated and, in some ways, afraid. So it's nice to be in a place like the meat market where they can be comfortable, and we're comfortable."

Kicking off the ensemble's first performances on the west side since 1980, that seemed to be the over-riding theme among music fans on Saturday: the Orchestra's trip 200 blocks west is bringing culture to a neighborhood that craves it.

Retiree Judith Allen spent her career as a globe-trotting journalist before settling here four years ago. "I only get to Severance a couple times a year," she says. "I don't know a lot about classical music. But this is the gift that's been given to me and I love it."

A sound for young America
Getting to the orchestra at Severance Hall is one thing. But getting the orchestra to translate to young listeners is another. Many in Gordon Square attend schools where music programs have been cut. Still, one thing cut through the music loud and clear: rhythm. That may be the key to bridging the east-side vs. west-side culture gap, according to orchestra spokeswoman Christine Honolke.

"Responding to rhythm is innate," she says. "If you go back to African music, it's something that touches the human soul. If you listen to music and you find one element that you can connect to, that is the door-opener."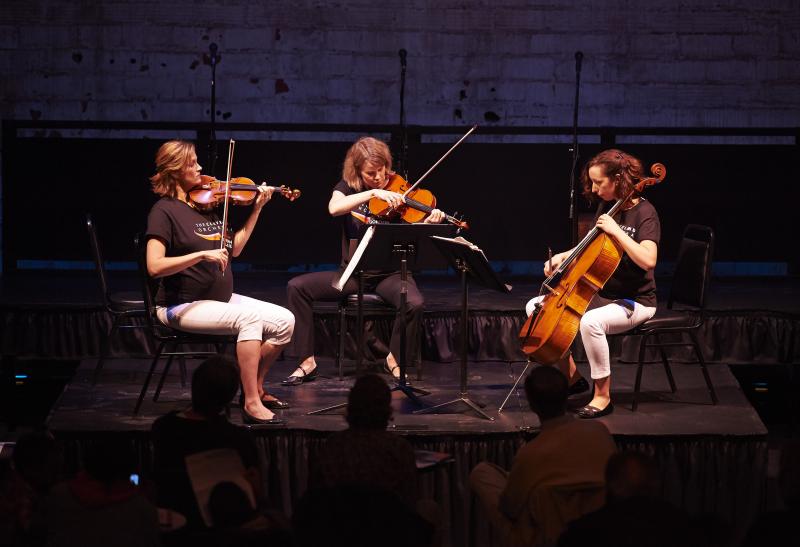 The Gordon Square residency features performances throughout the week by small groups, plus a Q & A session and a concert by the entire orchestra at St. Colman Catholic Church on Thursday.

Tonight, orchestra players will take on neighborhood children in a soccer game at 5 p.m.
---
---
---
Stories with Recent Comments