Loading...


Economy and Business



Monday, May 13, 2013




Cuyahoga's casino tax revenue proposed for downtown projects




County Executive FItzGerald says it'll keep momentum going, County Council must agree


by WKSU's KEVIN NIEDERMIER


Reporter
Kevin Niedermier
Phase 2 of the Flat's East Bank Project will get $1.5 million in casino tax revenue if Cuyahoga County Council approves the funding. County Executive Ed FitzGerald proposes funding this project and two other will the casino money to help keep downtown Cleveland's development momentum going.
Courtesy of Kevin Niedermier
Download (WKSU Only)
In The Region:
A trio of major downtown Cleveland development projects will split Cuyahoga County's share of Ohio's casino tax revenue, if County Council approves. County Executive Ed FitzGerald has announced that Playhouse Square would receive $4 million for the theatre district's renovation.

Another $1.5 million would go toward turning the old East Ohio Gas building into apartments. And $1.5 million would go to phase two of the East Bank project, which includes bars, restaurants and residential space.

FitzGerald says the funding is necessary to keep downtown's development momentum going. He points out that the casino tax revenues are only a small part of the cost of the projects.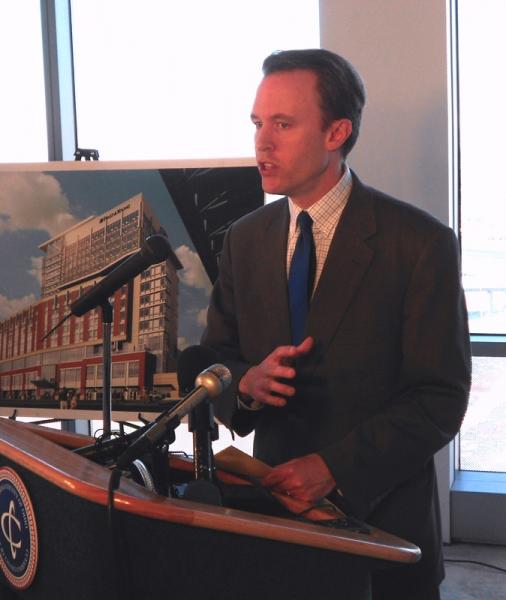 "With all this money the public sector is talking about, it dwarfs in comparison to the private capital in all these projects. These are huge, multi-million dollar projects that public money is only, basically, gap financing. That's why people should be confident that this whole initiative is going to work."
FitzGerald says the projects complement each other, and will help bring more residents and visitors downtown.

County Council is expected to vote on the funding proposals next month. Cleveland's Horseshoe Casino opened one year ago this week, followed by casinos in Toledo, Columbus and Cincinnati. The casinos so far as generated $200 million for counties, school districts and cities.
---
---
---
Stories with Recent Comments