Loading...


Government and Politics



Tuesday, May 14, 2013




Ohio governor plans ways to help seniors




Gov. Kasich hopes to provide rides, walkers to keep seniors safe




by WKSU's STATEHOUSE CORRESPONDENT JO INGLES



Reporter
Jo Ingles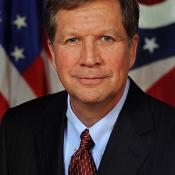 Gov. John Kasich wants to expand transportation options for seniors.
Courtesy of Office of Ohio Governor John R. Kasich
Download (WKSU Only)
In The Region:
Ohio Gov. John Kasich has some ideas for ways to help senior citizens in the Buckeye state.
Gov. Kasich says too many senior citizens are at risk of falling so the state will start a new program to help older people get walkers. At an AARP Luncheon, Kasich said the hope is that more senior citizens will put their pride aside and use walkers so their legs do not get tired and give out. There is no cost estimate for the program at this point but leaders at the Ohio Department of Aging say the initiative will be introduced later this year. Kasich also suggested that college students volunteer their time to drive older Ohioans to appointments and places where they need to go from time to time.
---
---
---
Stories with Recent Comments