Sometimes a natural event has such symbolism that its story lives on and on. One of those was the explosion of Mt. Vesuvius in Italy in the year 79 AD. That Roman holocaust was nearly forgotten until the 1700's, when archaeologists began excavating the city of Pompeii, strangely preserved by the ash that rained down on it.

A century later, scientists found that they could pour plaster into cavities in the ash and make statues of the bodies that were covered. What they found elevated Pompeii's story to legend, a Roman parallel to Sodom and Gomorrah.
The Pompeii exhibition was jointly created by the Cleveland Museum of Art and California's J. Paul Getty Museum. Cleveland curator Jon Seydl says he began work on the show seven years ago.
An ancient city and a modern imagination
"I was one of those kids who loved disaster movies -- this whole notion of disasters. ... My real field is the 18th century, which is when Pompeii was rediscovered. So I'm interested in the idea of suddenly this ancient city appearing in the European and American imagination."
The show is named after the novel "The Last Days of Pompeii."
The book "was an incredibly popular Victorian potboiler from 1834. It's a catalyst for all of these ideas people have for projecting lives back to the city of Pompeii."

Then came the body casts in the 1860s. And in the 18th and 19th centuries, the image of fire and ash destroying an entire city was irresistible to artists.

Lust, gluttony, violence
Some 100 works illustrate that. The exhibition is split into three parts: Decadence, Apocalypse and Resurrection. To illustrate decadence, Seydl points to Francesco Netti's 1880 painting called "Gladiator Fight During a Meal at Pompeii."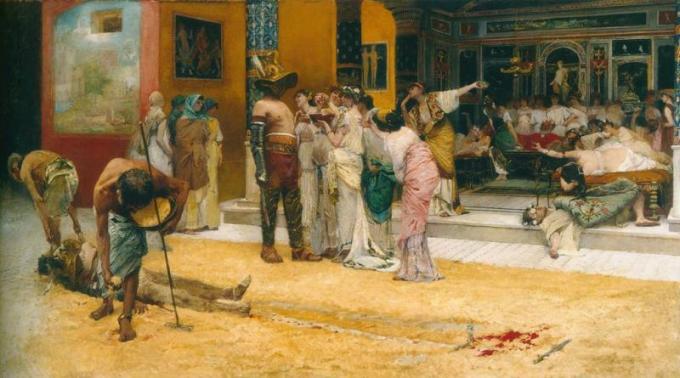 "You see lust, ... gluttony, you see all kinds of vice, you see violence. In fact, the people in the background have actually turned their attention back to their eating and drinking. They're already bored with the murder that's taken place in the foreground."
You might think after World War I, destruction of a single city like Pompeii would lose its punch. But even in the 21st century artists are still drawn to it.
The "American Vesuvius" exhibition at the Cleveland Museum of Art runs until the first week of June.

The "Last Days of Pompeii" runs through the first week of July.
"It's an archetype for disasters: from everything from the San Francisco fire in 1906, Hiroshima, the Holocaust, 9/11. It's this go-to metaphor we have. It's also this place we can project all of these fantasies about Roman decadence."

The American Vesuvius
Another show running now at the museum is called "American Vesuvius."
It's a collection of some 47 photographs of Mt. St Helens by two landscape photographers Frank Gohlke and Emmet Gowin. While the Pompeii collection features several paintings telling the story of Pliny the Elder, who died trying to save residents of Pompeii, photography curator Barbara Tannenbaum tells the story of a man who perished at Mt. St. Helen's. Scientist David Johnston was the first person to radio authorities that the mountain was erupting.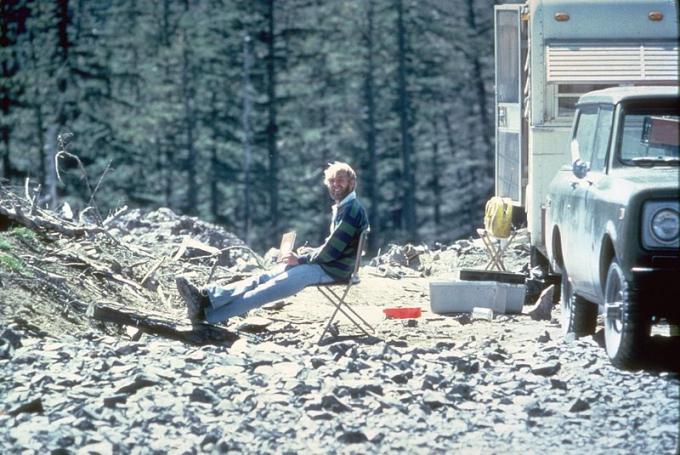 "Not only was he instantly vaporized and blown away by the pyroclastic wind, nothing was ever found – not him, not his camera, nothing."
The photographs of Gohlke and Gowin show how cabins, vehicles, roads and even lakes completely disappeared – much the way Pompeii disappeared – after a volcanic eruption.
Pointing at one photograph, Tannenbaum notes, "This is 4 miles from the mountain and these trees are standing dead and most of their leaves are blown off, and the earth just looks like it's barren."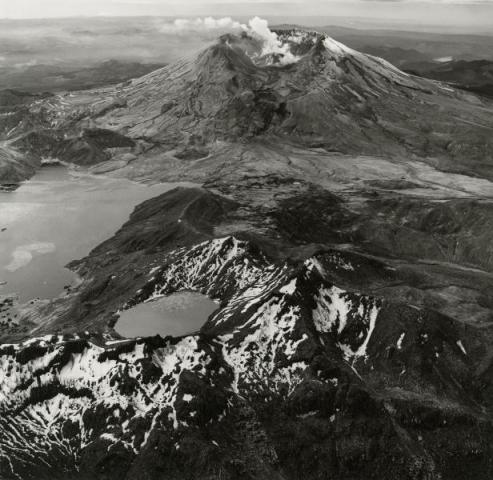 Gohlke and Gowin photographed in black and white because there wasn't much other color in the landscape. Tannenbaum said Gowin wanted to fly over the mountain shortly after the eruption but only scientists were allowed near the still smoking caldera.
A pilot told him "'You're not an artist, you're a researcher,'" says Tannenbaum, "And he called the FAA and said, 'I have another researcher I'm taking back up.' And that's how Emmet first got up in the air, … and that was his first time at aerial photography."
Looking back, later
A decade later Frank Gohlke went back to Mt. St. Helens and took photographs that play on the rebirth in nature but also cast an eye on the destruction caused by loggers. Parts of the mountain remain barren even three decades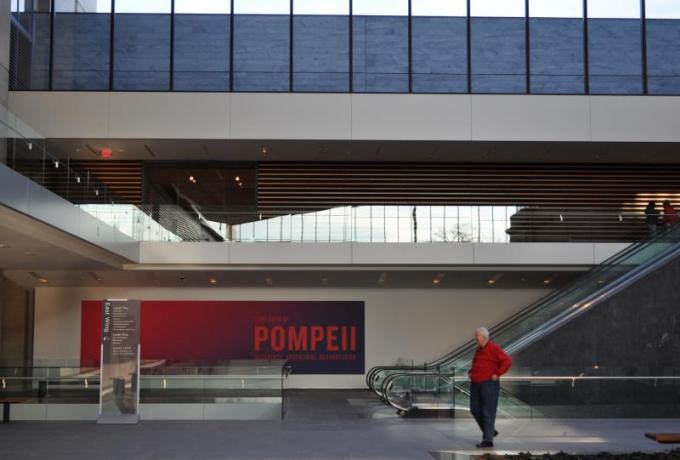 later.

The 2009 movie version of Cormac McCarthy's novel, "The Road," had to show a post-apocalyptic world where even plants no longer survived. It was filmed at Mt. St. Helens.
While this was the first time Gowin and Gohlke tried aerial photography, both ended up using it later in their careers. It does make many of the Mt. St. Helens photographs disorienting and even abstract.
"You don't know what's up what's down; what's east, what's west. You don't know if you're looking at some tiny detail that's underneath your feet, … or if you're looking from 5,000-6,000 feet up in the air."