Loading...



From WKYC.COM / TV 3
Get the latest school closings and delays


Funding for WKSU is made possible in part through support from the following businesses and organizations.
---
For more information on how your company or organization can support WKSU, download the WKSU Media Kit.

(WKSU Media Kit


)
---

Government and Politics



Wednesday, May 15, 2013




Ohio tea partiers are that upset the GOP is capitalizing on IRS flap




Activist says fundraising effort is 'disingenuous'




Story by

STEVE BROWN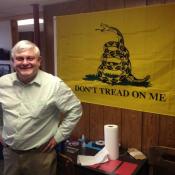 Tea Party activist Tom Zawistowski, who was wrongly investigated by the IRS, is against recent GOP fundraising efforts.
Courtesy of Kabir Bhatia
Download (WKSU Only)
In The Region:
Some Ohio conservatives are divided in their reaction to news that the IRS was targeting conservative groups in investigations of their nonprofit status.
The Ohio Republican Party this week sent out an email asking supporters to donate money to help fight the IRS. And the head of one of the conservative groups targeting by the IRS says that pitch is disingenuous.

Tom Zawistowski heads the Portage County Tea Party. He unsuccessfully ran for chairman of the Ohio Republican Party, and has accused the GOP of disregarding its conservative base. He told WOSU the e-mail is "an example of how unconnected the Ohio Republican Party is with their base."

He's joined by former Republican state lawmaker-turned tea party activist Seth Morgan.

"The Tea Party groups had just asked the Ohio Republican Party to consider some things, which we issued in a March 22 letter with 85 conservative groups across the state signing," Morgan says. "And they ignored all of it."
Ohio Republican Party chairman did not comment on the fundraising letter, only calling Zawistowski "an important part of the Republican Party."
Page Options

Print this page

E-Mail this page / Send mp3

Share on Facebook
---
---
Stories with Recent Comments