Loading...


Education



Wednesday, May 15, 2013




Cleveland schools move to reward performance more than seniority




If ratified, the new union contract would base raises on "pay-for-performance" model




by WKSU's IDA LIESZKOVSZKY



Reporter
Ida Lieszkovszky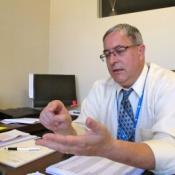 Cleveland Teachers' Union President David Quolke is trying to educate members on why the new contract is a good deal
Courtesy of Ida Lieszkovszky
Download (WKSU Only)
In The Region:
Tuesday night, the Cleveland school board unanimously agreed to what city and union officials are hailing as a groundbreaking teacher contract for Ohio. The union rank and file will vote later this month and ratification is expected. The contract spells out a new basis for teacher pay hikes. Raises merely for lasting another year in the job are out; so are automatic bumps for an extra degree. Instead, "pay-for-performance" is in. StateImpact Ohio's Ida Lieszkovszky has this report.
Only three-dozen of the state's 600 school districts now have any sort of pay-for-performance system in place. Cleveland schools' CEO Eric Gordon insists this version goes a lot further than any of them.

"We're the only school system in the state of Ohio that actually has a true differentiated compensation system. Almost all of the efforts have been kind of stipends or bonuses added on to a traditional system. We're one of the few in the nation, frankly."

Other Ohio districts use performance to give teachers raises but those come on top of seniority based pay hikes they get anyway.

The radical move in Cleveland would be the abandonment of what are known as "step increases," where the longer you teach the more money you make – regardless of how much students are learning.

In Cleveland, teachers would have to earn so-called "achievement credits." Fifteen achievement credits gets you a pay bump.

"It is not years of experience and masters," says Gordon. "That's exactly what we've set aside."

Teachers rewarded for improving teaching
"If a teacher is teaching physics class and takes an advanced physics course in college, we can award achievement credits for that because that's something the district wants. But we don't have to award achievement credits for every college course for the teacher who maybe is studying their law degree, which maybe doesn't directly apply to their physics classroom."

Cleveland's not quite there yet – the new contract would still give all teachers an automatic 5 percent hike over three years, plus a one-time payment of $1,500.

Forty more minutes
School officials say the extra pay is an exception to the new rules and warranted because of a longer school day also in the contract.

Some key details in the contract are yet to be worked out – what, exactly, counts toward an achievement credit, for example. That'll be written by a committee by early next year.

David Dolph, chairman of the Educational Leadership Department at the University of Dayton, says it makes sense that not everything is figured out yet, and that teachers will still get some pay raises regardless of performance. It's a way to ease into the new system.

"When you think of organizational changes such as that, to go from A-to-Z in a heartbeat can be a bit of a challenge. So having a transition period where people begin to understand the entire system can make some sense."

Dolph says performance pay for teachers is gaining popularity across the state and country. It's also something the Obama Administration incentivized with hundreds of millions of dollars to states in "race to the top" grants.

"It makes some intuitive sense to folks. American values, they value hard work, they always have and it seems to be something that's accepted in a lot of other ways of doing business."

Union uncertainty
Union President David Quolke says it's a good deal, and he's working to convince his members of that.

"Like with any agreement, any uncertainty causes concern and raises questions," he says. "We are out there in the buildings educating our members."

Cleveland looked to Baltimore to develop its performance-pay model. Now, if the contract is approved, other districts may look to Cleveland to see what works – and what doesn't.

---
---
---
Stories with Recent Comments