Loading...



From WKYC.COM / TV 3
Get the latest school closings and delays


Funding for WKSU is made possible in part through support from the following businesses and organizations.
---
For more information on how your company or organization can support WKSU, download the WKSU Media Kit.

(WKSU Media Kit


)
---




Thursday, May 16, 2013




Haslam to trucking industry: "I will right the wrongs"




Browns and Pilot Flying J owner denies knowing about alleged fuel rebate fraud, tells trucking seminar he's issuing refunds with interest


by WKSU's AMANDA RABINOWITZ


Morning Edition Host
Amanda Rabinowitz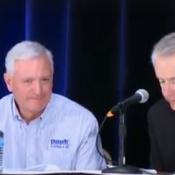 Browns owner and head of Pilot Flying J truck stop business told trucking industry leaders: "I was absolutely not aware of any this."
Download (WKSU Only)
Cleveland Browns owner Jimmy Haslam says he's working to repay trucking companies and restore the reputation of his Pilot Flying J business. Haslam spoke to trucking company executives at a seminar in Indianapolis this morning, answering questions screened by his lawyers about alleged fuel rebate fraud that's the target of an IRS and FBI investigation.

Haslam says about 250 trucking companies likely have been affected and he's continuing to contact each one personally. He hopes to have refunds issued, with interest, by middle of July. And, Haslam reiterated that he had no part in the alleged scheme.
More than a half-dozen civil lawsuits have been filed by trucking companies, which have hired former FBI director Louis Freeh to investigate their claims. No criminal charges have been filed.


Other options:
MP3 Download
(35:15)
---
---