Loading...


Ohio



Thursday, May 16, 2013




Ohio says shale drilling is starting to pay big returns




Ohio Department of Natural Resources issues its 2012 report on Utica shale returns


by WKSU's M.L. SCHULTZE


Web Editor
M.L. Schultze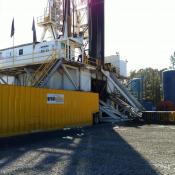 Shale drilling in Ohio has accelerated, from two producing wells in 2011 to 87 in 2012.
Courtesy of TIM RUDELL
Download (WKSU Only)
In The Region:
The state's first formal report on oil and gas drilling in Ohio last year shows the Utica shale is starting to produce as projected. The state has soared from two producing wells to 87, and production of oil from the shale has nearly doubled since 2011. Production of natural gas was up about 80 percent. The Ohio Department of Natural Resources, which issued the report, says production from hydraulic fracturing could outstrip convention vertical wells as early as 2015. The report quotes Natural Resources Director James Zehringer saying the numbers "make a compelling statement about the staggering amount of oil and gas resources Ohio's shale appears to contain." Earlier reports had raised questions about whether Ohio's oil and gas expectations may have been inflated. And environmental groups are concerned that fracking, and the disposal of its wastewater, could pollute ground water supplies.
---
---
---
Stories with Recent Comments