Loading...


Courts and Crime



Thursday, May 16, 2013




UPDATE: Dead suspect's gun was a BB pistol that looked like a handgun; Fatal shooting by University of Akron police officer is under investigation




Officer claims he fired after a driver driver pulled the fun during a routine traffic stop


by WKSU's KABIR BHATIA


Reporter
Kabir Bhatia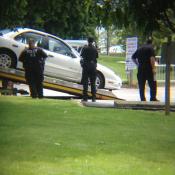 Broken glass is visible (bottom right) from the car which was driven by a man who allegedly pulled a handgun during a traffic stop.
Courtesy of K. Bhatia
Download (WKSU Only)
In The Region:
UPDATE: The University of Akron reported this afternoon that the gun the officer saw with was a black-metal BB gun that looked like a .45 caliber pistol.

University of Akron police are investigating the fatal shooting this morning by one of their own. The shooting happened after the officer -- whose identity the university refuses to provide -- pulled over a man for a traffic stop. WKSU's Kabir Bhatia reports.
The officer pulled over a white Pontiac sedan to check improper registration at about 11 a.m. in the BMV parking lot off the Wolf Ledges Parkway. Akron police say the driver pulled out a what looked like a handgun and the officer shot and killed him.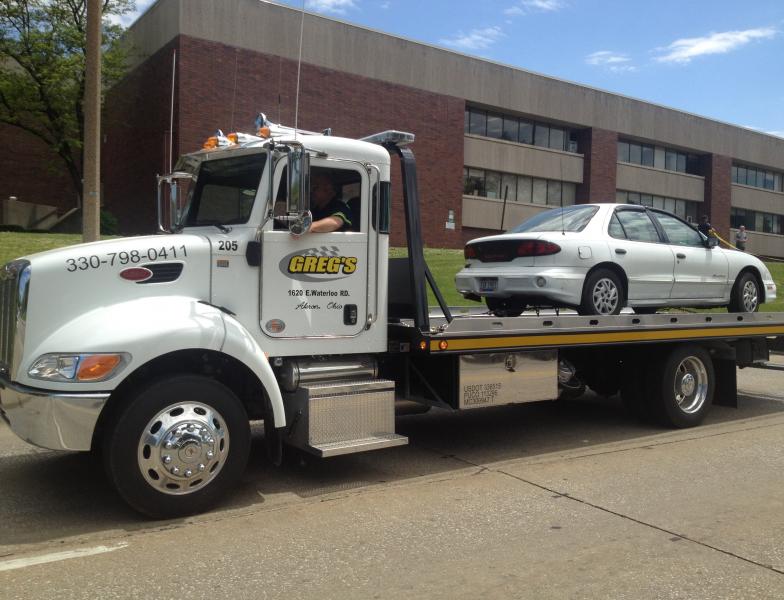 Terry Metcalf is executive vice president of the Northeast Ohio Auto Dealers' Association, which shares the BMV's building. He says he was "leaving when the traffic stop originated. [The] police officer was getting out of his car. When I came back, I was a little surprised that the entire area was pretty much shut down."

Metcalf says he saw several shell casings on the ground, but his staff does not recall how many shots they heard. The dealers' association has provided Akron police with its surveillance footage of the traffic stop.

The southwest edge of the University of Akron's campus is about a half-mile from the shooting site. President Louis Proenza learned of the shooting while attending a speech at Quaker Square. He says the university has a "dual arrangement" with the city police departments so "we can respond to each other's call depending on who's proximal."

The university is refusing to release the officer's name, saying it is part of the investigation. The dead man's name will not be released until family has been notified. He was a white man reportedly 64-years-old.
---
---
---
Stories with Recent Comments