Loading...


Environment



Friday, May 17, 2013




Muskingum Watershed formalizes the rules for selling water for fracking




Park lakes, like Clendening and Seneca, will provide some water for drillers


by WKSU's TIM RUDELL


Reporter
Tim Rudell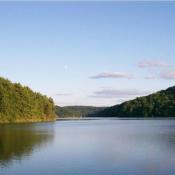 Clendening Lake in Harrison County. It is one of 10 Muskingum Watershed Conservancy District lakes. The others are: Atwood; Beach City; Charles Mill; Leesville; Piedmont; Pleasant Hill; Seneca; Tappan; and Wills Creek.
Courtesy of MWCD
Download (WKSU Only)
In The Region:
There is now a formal policy for selling water from area conservancy lakes to frackers, and other short-term users. The Muskingum Watershed Conservancy District Board approved it today.
The conservancy district has always sold water for commercial uses, including farming. And with shale gas drillers operating near its lakes, it has been selling to them, too. The district's Darren Lautenschleger says with the expectation of selling more, the board wanted to tighten things up.

"Providing water for sale is part of what the lakes are for. This (new) policy specifies how, where and when sales can take place, and sets the framework for the sales agreements."

Sales will be restricted to short distances from the district's lakes, something that can be serviced by temporary, flexible hose type lines. The policy also requires to sales to coincide with the time of the year when lake levels are high.

Frackers have applied five times for water since Utica shale drilling began, with two sales completed and one set for later this year.
---
Related WKSU Stories

Fracking is coming to eastern Ohio conservancy reservoir
Friday, February 15, 2013

Taking water from state lakes to help save township roads
Thursday, October 4, 2012

Fracking requires about 5 million gallons of water per well
Monday, September 24, 2012

Frackers little affected by lower water levels
Wednesday, July 25, 2012

Seneca Lake gets temporary reprieve
Tuesday, June 12, 2012

Muskingum Water District halts water sales
Thursday, June 7, 2012

Carroll County pins hopes for Atwood Lodge on shale drillers
Wednesday, January 25, 2012
---
---
---
Stories with Recent Comments