Doug Katz's father loves Jewish food. In his honor the new restaurant was to be named Katz's Deli.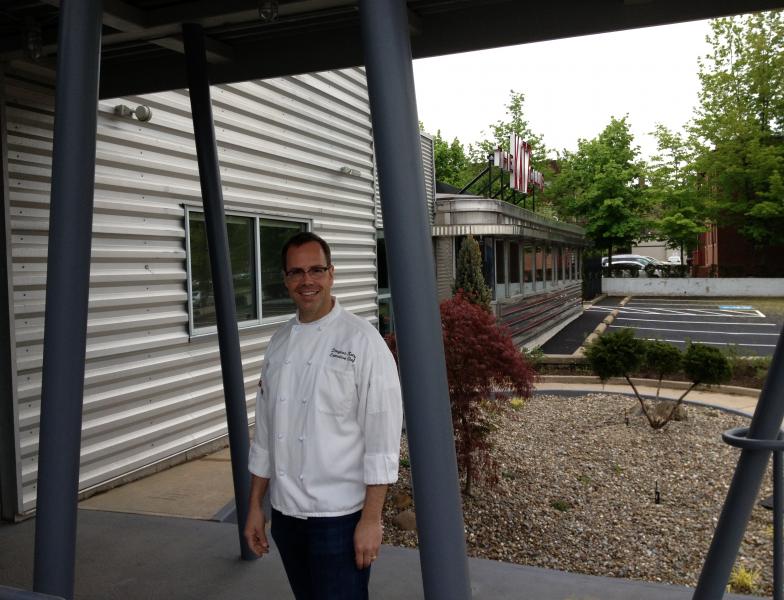 "Unfortunately there's a famous deli in New York called Katz's delicatessen."
Instead it's called The Katz Club.
One name, two eateries
Two train cars sit side by side. The one on the right is an upscale cocktail lounge, as fancy as Katz's other restaurants: Provenance at the Cleveland Museum of Art and Fire Food and Drink at Shaker Square.
But the rail car on the left is more casual.
There's a long walnut counter lined with stainless steel and leather stools and a few tables on the other side. The ambience is bright but not gaudy with most of the decor in gray and platinum. There's an old-fashioned milkshake machine, sundae and parfait glasses, and historic photos of Cleveland landmarks.
This is a spot for breakfast, sandwiches, dinners and desserts that looks like an old-fashioned soda fountain.
The goal: classy but comfortable, and not trying to be cute
"We want this to feel like a 1940s style diner, nostalgic and historic."
But never kitschy.
"We're not doing collections of salt and pepper shakers, clocks and teapots, things like that. It's a little bit more simple and focused on the food,
the classic foods of that era."
The two railroad-style dining cars landed on Lee just south of Cain Park more than 10 years ago thanks to Doug Katz's friend and neighbor on Overlook Road, Steve Presser of Coventry's Big Fun novelty store.
"I owe so much to Steve for getting the ball rolling, for taking the chance, for having the courage to do something like this in this neighborhood."
Presser couldn't make a go of the business. 5 successive owners also failed. But Katz says he can make it work now, in an improving economy.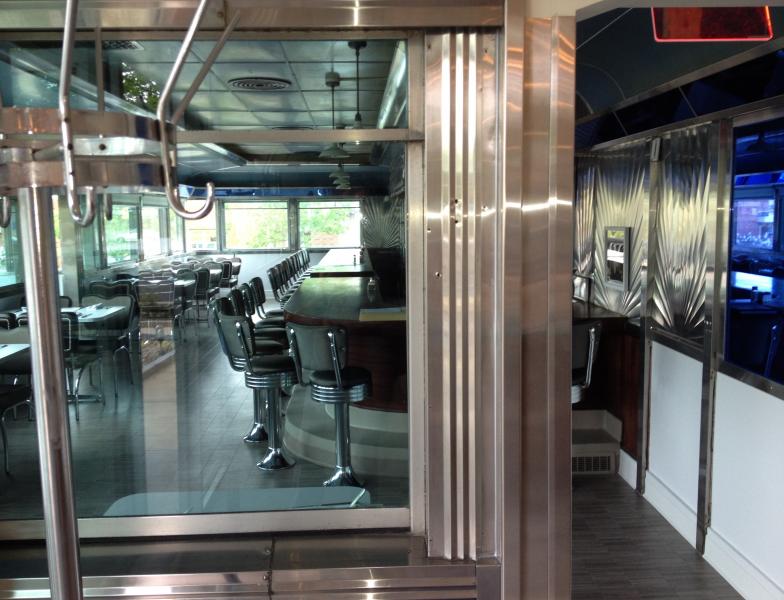 The good doctor gets a nod
And it will still honor his deli-food loving father, an ear, nose and throat doctor who has been making his own pickles since Doug Katz was 7.
"We'll sell Dr. Katz's pickles here. We'll put them on our sandwiches."
The pickle might come alongside your Katz Club Sandwich on griddled bread with crispy fries. Along with lettuce, tomato, and a fried egg, Katz and his executive chef, Matt Bayber, top it with luncheon meat they make in-house.
Every little thing from scratch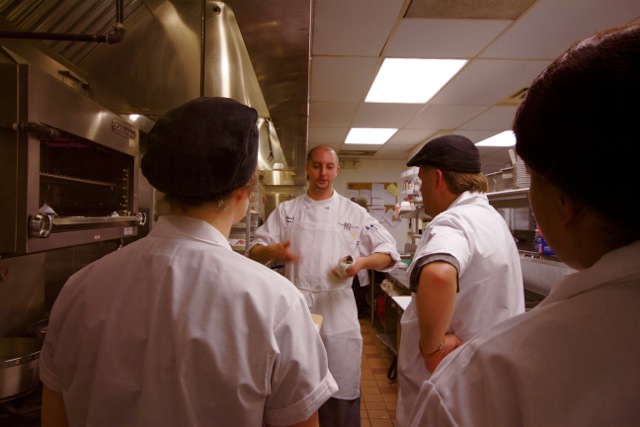 "We take our turkey off the bone, we roll it, we salt it really well, and we cook it in a court bouillon. And it slowly poaches. And then we shave it and put it in our sandwich."
They also make their own bacon, sauerkraut, jam, syrups, and hot dogs.
Katz says just as important as getting everything fresh and in season from local farms is a staff trained to make everything from scratch.
"Otherwise we lose the craft of cooking."
The diner car's open from morning till late night, but you can get breakfast there all day.
An elegant, intimate cocktail bar
The bar car opens at 8. It's dimly-lit as if by candlelight with velvet drapes behind an art deco-patterned banquette. There's a coffered stainless steel ceiling, a walnut bar with a chair rail, and a marble lounge table surrounded by comfy chairs.
Katz offers gourmet snacks in this rail car, "Small plates, oysters on the half-shell. We'll have poached or sauteed shrimp, some old world style dishes that really make you feel like you're in the 40s. And we'll have great music playing."
After a movie at the Cedar-Lee or a concert at Severance Hall, the bar car might be the adult place to be.
Back to the soda shop of yesteryear
As a place for kids, like his 10-year-old twins, it's the diner with its soda-fountain atmosphere that reminds Katz of the hangouts of his youth: Campus Drug at Fairmount Circle and Draeger's ice cream parlor at Van Aken.
Katz's children already have their own signature menu items.
" Abe is famous for his potato latkes that he makes at home so we have "Abe's Latke's". My daughter loves banana splits and she makes it special for herself so it's "Amelia's Split".
Chefs in training?
"I would like them to be," Katz laughs, " but I think if you talked to my wife she would say that that is definitely not the case."