Loading...


Courts and Crime



Monday, May 20, 2013




Disciplinary hearings begin for Cleveland police supervisors




A dozen Cleveland police supervisors face disciplinary hearings for failing to follow procedures during a wild chase and deadly shooting last November


by WKSU's KEVIN NIEDERMIER


Reporter
Kevin Niedermier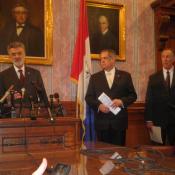 Mayor Frank Jackson, left, along with Safety Director Martin Flask, center, and Cleveland Police Chief Michael McGrath address questions about police conduct in a January meeting. An administrative review identified a dozen supervisors who are undergoing disciplinary hearings.
Courtesy of WKYC
Download (WKSU Only)
In The Region:
Disciplinary hearings began Monday for a dozen Cleveland police supervisors involved in last year's massive police chase that left two suspects dead. WKSU's Kevin Niedermier reports.
The police supervisors are charged with violating city policies regarding pursuits during the November chase that ended with two apparently unarmed people being shot and killed. The chaotic chase involved fifteen supervisors and nearly 100 officers.

An administrative review of the incident concluded that some supervisors failed to control the situation, while many of the officers did not follow policies and procedures. Safety Director Martin Flask will conduct six of the supervisor hearings, and Police Chief Michael McGrath will hear the other six.

The proceedings are closed to the public. And because of the large amount of evidence being reviewed, city officials say the decisions will not be announced until sometime next month. The supervisors face disciplinary action ranging from suspensions to firings. Disciplinary hearings for officers involved in the chase will be conducted next.

The Cuyahoga County Prosecutor's office is conducting a criminal investigation of 13 officers involved in the shooting at the end of the chase to determine if excessive use of deadly force was involved.
---
---
---
Stories with Recent Comments