Loading...


Government and Politics



Tuesday, May 21, 2013




Republicans protest outside Democratic party headquarters




Protest focuses on politics, not issues




by WKSU's STATEHOUSE BUREAU CHIEF KAREN KASLER



Reporter
Karen Kasler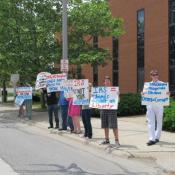 Republicans protesters hold signs outside the Ohio Democratic Party headquarters.
Courtesy of Karen Kasler
Download (WKSU Only)
In The Region:
Though the Ohio Republican Party has been dealing with a split among its constituents, the GOP has not forgotten its oldest enemy – the Democrats. This protest puts politics over issues.
Nine Republican party activists picketed in front of the headquarters of the Ohio Democratic Party. Ohio State senior Jade Overstreet says the IRS's admitted targeting of conservative groups is a big deal to the group.

"We definitely think it's wrong that [the Ohio Democratic party] is not making sure that its elected officials are not profiling citizens and it was wrong that the IRS targeted certain groups," Overstreet says.

Ohio Democratic Party chair Jerid Kurtz shot back by bringing up incoming GOP chair Matt Borges' unpaid taxes and previewing next year's campaign against the re-election of Gov. Kasich.

"It's always interesting to see the party talking about the IRS and taxes, but hypocrisy is nothing new to the governor," Borges says.
---
---
---
Stories with Recent Comments