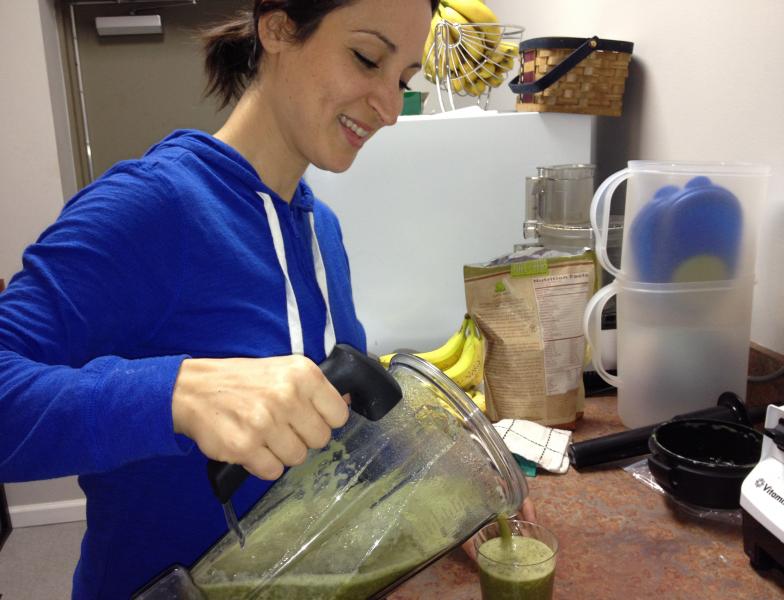 Raw foodism emerged in the late 1800's when the Swiss doctor who invented muesli, Maximillian Bircher-Benner, found a raw-food diet cured his jaundice. Marisa DiCenso-Pelser of Strongsville more recently found it cured her sore joints, heartburn, headaches and acne.
A few years ago, Pelser started restricting herself to mostly uncooked fruits, vegetables, nuts, seeds, grains, spices and unrefined oils. Today her 2-year-old daughter Maria Louisa and 7-month-old son Bennett also have a lot of raw food in their diet.
Certified to teach others what she learned
Pelser's neither a doctor nor a scientist, but she and her husband, Pete, are incredibly fit. They met while studying exercise science at Cleveland State.
Just after their son was born last year they opened Pure Health and Fitness in Strongsville. They offer Pilates, yoga and personal training, and Marisa's known there as "The Raw Trainer."
She started on what she calls her "raw journey" while training for a body-building competition. After winning first place, she found out she was pregnant, felt great and decided to stay on the diet.
Through pregnancy, nursing and beyond
"So I was pregnant with my daughter on a raw food diet, nursed her on a raw food diet, started feeding her half-raw, half-cooked and now I am doing the same with my son."
She says her kids are thriving, and now she counsels other parents to follow her lead.
"Actually, you're going to have what the baby needs and then some because, unfortunately, when you purchase baby foods (they are) pasteurized and a lot of the nutrients are cooked out of them. And when you make it yourself, you're able to keep a lot of it raw."
Gentler than store-bought for little digestive systems
She uses only organic ingredients "because when we consume pesticides or hormones, we're able to metabolize it a little bit better whereas the children are affected a little bit more intensely. So I think it's important."
Of course all babies are different, and there are differing views on the benefits of organic produce as well as raw foodism.
Dr. David Katz, director of Yale's Prevention Research Center, wrote last year in The Huffington Post that, "The case for raw food eating is oversold."
But Maria DiCenso Pelser trusts her own research, the evidence of her own improved health, and how well her kids are doing.
Green smoothies in a sippy-cup
Two-year-old Maria-Louisa chugs 8-ounces of green smoothie every morning. It's mostly pureed spinach, and her Mom says she's loved that veggie since infancy.

You may need to do a little mincing, chopping or straining when you make your own baby food, but Pelser says in most cases you can give children what you're eating and mash it with a fork or puree it in a blender.
Hold the salt and pepper
She suggests not salting food or adding sugar until after you've removed your child's portion, and don't add spices until your child is about 8 months old.
To start she recommends seasonal fruit.
"But another thing that I would introduce besides fruits would be sweet potatoes, carrots, peas, which is nice because those are all things that we can get through Fresh Fork."
What qualifies her most is motherhood
Maria DiCenso-Pelser had to travel to Kittery, Maine, to study and become certified as a raw foods teacher. She's also a raw foods chef and author, but the main reason businessman Trevor Clatterbuck wants to work with her is …she's a mom.
Clatterbuck and Pelser met only recently.
"And she asked what gym I worked out at and I said, 'I've got body-by- Fresh Fork'. We move watermelons and cabbages and thousand-pound palettes left and right all day long."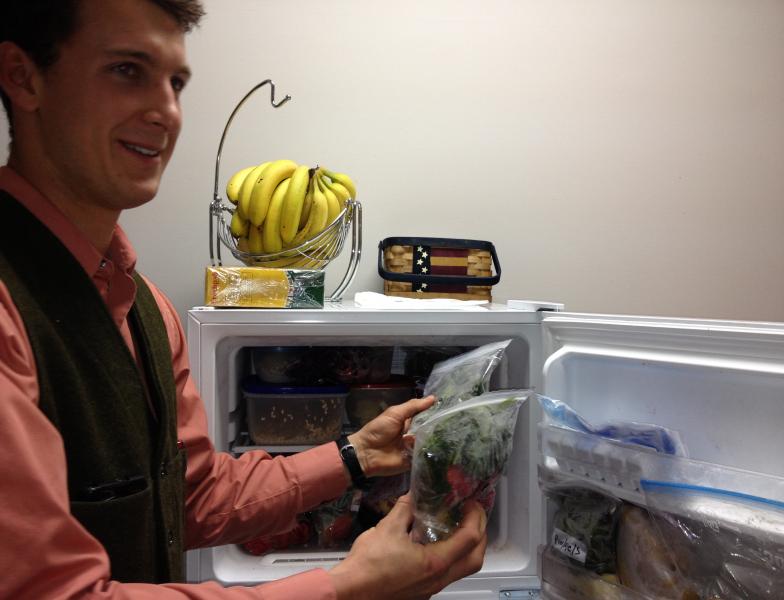 Clatterbuck's Fresh Fork Market delivery service has about 2,400 subscribers getting it fresh from local farms, and most are young families.
"And interestingly, no one on my staff is married or has children. That's why we're excited to partner with Marisa."
Get a taste and some tips
For a $20 fee, you can sample baby food, get recipes and learn Pelser's techniques Monday night at Market Garden Brewery in Cleveland.
And that's this week's Quick Bite. Next week, an in-depth interview with Sen. Sherrod Brown about the farm bill.