Loading...


Economy and Business



Tuesday, May 28, 2013




Feds are looking at complaints over EcoBoost safety




Customers are complaining that the Brook Park-built engine loses power during acceleration


by WKSU's KEVIN NIEDERMIER


Reporter
Kevin Niedermier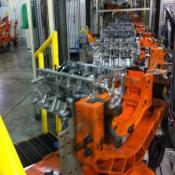 Frod Ecoboost engines rolling along the assembly line at the company's Brook Park plant. The NHTSA is looking into alleged acceleration problems with the engine.
Courtesy of Kevin Niedermier
Download (WKSU Only)
In The Region:
The National Highway Traffic Safety Administration has opened a preliminary investigation into alleged problems with the Ford EcoBoost engine built in Brook Park.

The agency has received nearly 100 complaints from owners of F-150 pickups equipped with a twin turbo version of the engine. They say their trucks sometimes suddenly lose power or stall during acceleration. About a third of the complaints say the problem occurs most often in very humid or rainy conditions.

The investigation includes about 400,000 2011 through 2013 F-150s. Auto industry analyst Michelle Krebs of Edmonds.com says the EcoBoost engine has become a large part of Ford's production, so the problem needs to be fixed quickly.
"Ford has used the EcoBoost name to the point that's it's almost become a brand of its own, ... has really marketed its EcoBoost
Here's the notice from the Highway Traffic Safety Administration:
The Office of Defects Investigation (ODI) has received 95 reports alleging incidents of reduced engine power during hard accelerations in model year (MY) 2011 through 2013 Ford F150 trucks equipped with 3.5L gasoline turbocharged direct injection (GTDI) engines. Ford has issued three technical service bulletins related to intermittent stumble/misfire on acceleration from highway cruise in humid or damp conditions.
engine, so it's very high profile and they need to get this right."
Recently, a group of Ford owners from Ohio and Louisiana sued the company, saying their EcoBoost equipped vehicles were stalling.

Production of the EcoBoost engine started five years ago and revived Brook Park's Ford plant. The facility now employs about 1,000 workers, and another 450 are expected to be hired this year to build a smaller version of the engine
.
---
---
---
Stories with Recent Comments