Cuyahoga County Executive Ed FitzGerald isn't seeking reelection next year because he's running for governor. And he stood beside Armond Budish as Budish announced his candidacy for the county's top job.

FitzGerald says Budish has the skills to build on the work he's done as the county's first executive. And Budish praised FitzGerald's work before listing his own plans for the job. They include helping municipalities work together to save money on services, better promotion of Lake Erie, reducing brain-drain, and building on the county's amenities and economic and cultural strengths.
"We have arts and culture that are second to none; we have the lake, recreation, the MetroParks. We need to get the word out about all this so we can attract the people. We need to build up our population here."
B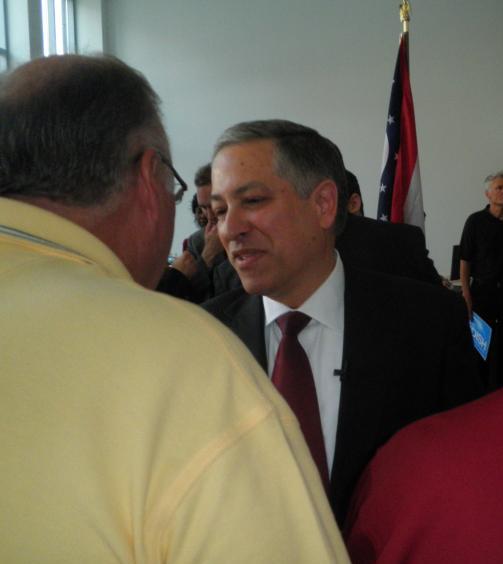 udish says he'd establish a "traveling roadshow" to criss-cross the country promoting Cuyahoga County. He says the jobs he wants to create would be for people of all economic levels.

The 59-year-old Budish was elected to the Ohio House in 2006 and has served as House Democratic Leader and House speaker. An attorney, he specializes in consumer and elderly legal issues.

Budish also has the endorsement of Congresswoman Marcy Kaptur. The only other Democrat running for county executive so far is former Sheriff Bob Reid, who was fired by FitzGerald. No Republicans have announced candidacies yet.