Northeast Ohio has long been noted as a center for steel and rubber and medicine. But many of us forget it's still a major player in paints and coatings. Two of the largest paint companies in the world – Glidden and Sherwin Williams, both over a century old -- are still headquartered here. They may compete with each other, but representatives from each company also work together with an international organization called the Color Marketing Group to predict color trends. From Glidden, it's Barbara Richardson.
"We get together as an organization to discuss what are the trends; what are we seeing? How's the movement? And we're really able to track where color has been and predict where's it's going, so we know what colors are going to be popular in the future."
At Sherwin Williams, the director of color marketing is Jackie Jordan, who says more than paint companies are involved in the art and science of color. It includes people in fashion, floor covering and the auto industry. It helps that interior designers coordinate with furniture designers.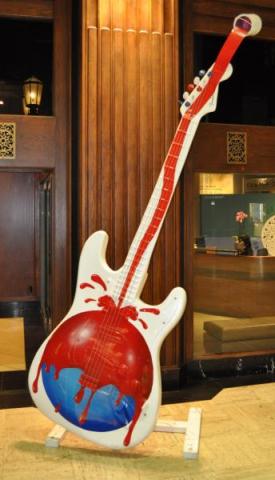 "Everybody comes to the table with so much information. We're having discussions about technology, about the economy, about fashion, about pop culture. It's all of these different things that actually start forming color palettes."

Jane Fonda and Lena Dunham
This past winter, when Jane Fonda wore yellow to the Oscars and Lena Dunham wore yellow to the Grammies, colorists were taking note. Barbara Richardson at Glidden says it's happened before as when Julia Louis Dreyfuss wore pink at the Emmies.
It's hard to tell where the initial influence of a color begins. The colorists at Sherwin Williams and Glidden say they are not dictating colors; instead color fashions tend to start on the streets and percolate up.
Romancing the color
But color names are created in paint company conference rooms. If you're going to sell a dark brown, you're better off calling it, say, "French roast" as Sherwin Williams did.
Sherwin Williams and Glidden have small teams that come up with names for their newer tints. Both offer several thousands of colors for business clients. But for homeowners they keep their palettes down to a couple hundred hues. Richardson says Glidden tries to come up with names that resonate with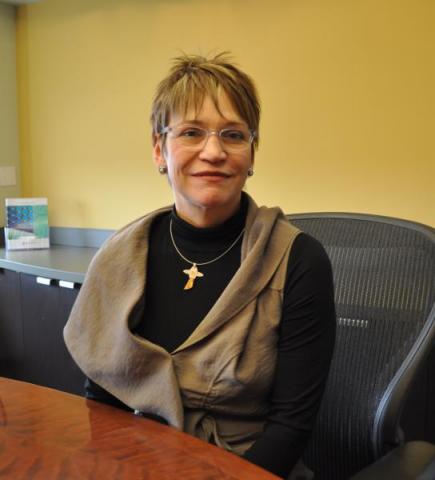 customers, names like "sugared lime."
The pick "names that are related to food, to fruit, to flowers, to nature, so that if we say 'red delicious' somebody is going to look at that red and relate to it. ... You're sort of romancing that color."

Sherwin Williams's color of the year is a green called "aloe." Glidden's color of the year is a dark blue called "indigo night." Sherwin Williams also has "habanero chili" and "Queen Anne lilac."

"There are certainly associations to places," says Jordan, and to "bodies of water, to deserts, food, spices, flowers."

These two companies don't trademark their color names, but are careful to choose names that another company hasn't already adopted. They don't want confusion among customers.


Richardson says Glidden never changes a name, even though she recoils at some 1970's names like Top Banana. "We'll never do that again." Jordan says Sherwin Williams may update a color name, but it doesn't happen very often.

And the color experts at these companies are just as likely to refer to a color around the office by its code number as its name.
Appealing to men
The majority of household paints are now chosen by women and names like "refreshing mimosa" are aimed at the.
One company – CIL Paints of Canada – is targeting paint colors to men. Its color "bone white"is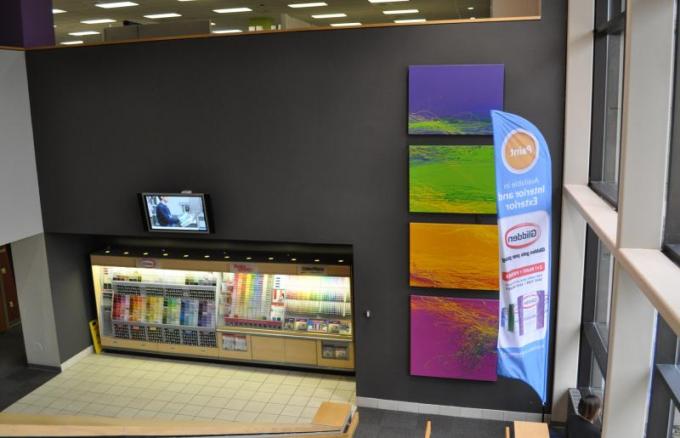 in a collection called "man cave." (Listen to the audio for some more oddball paint names and names that failed.)
Glidden and CIL were both owned by AkzoNobel from the Netherlands, but Glidden has been purchased by Pittsburgh-based PPG. Sherwin Williams recently bought the Mexican paint company Comex.
If the thousands of colors made by Glidden or Sherwin Williams aren't quite right for you, you can always turn to another Cleveland-based pigment company – the Day Glo Color Corporation.