Loading...


Education



Monday, June 3, 2013




Undocumented students are in gray area for college admission




Students under a deferred-action program face an uphill battle in going to college




by WKSU's IDA LIESZKOVSZKY



Reporter
Ida Lieszkovszky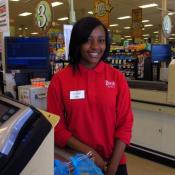 Eighteen-year-old Chaza Banda works at Dave's Supermarket in Cleveland. She came to the U.S. eight years ago and can legally work here, but she's not on a path to citizenship. Many universities consider her an international student; Miami University admitted her but would charge more than double what in-state students pay.
Courtesy of Ida Lieszkovszky
Download (WKSU Only)
In The Region:
It's been nearly a year since the Obama administration adopted a policy that allows some young people brought to the United States illegally to remain in the country. Nearly two million people are eligible for the program known as DACA – deferred action for childhood arrivals. This is the first year DACA students are applying for college. As StateImpact Ohio's Ida Lieszkovszky reports, their uncertain legal status can still be a problem.
Eighteen-year-old Chaza Banda checks out customers at Dave's Supermarket on the east side of Cleveland, and is saving up her paychecks to pay for college.

Banda immigrated to the U.S. eight years ago from Zambia with her parents and one of her sisters. She's an outstanding student – top ten in her class. Her high school did not have a soccer team, so she started one. She took a plethora of AP courses to get ready for college.

But as she enjoys an afternoon off at Cleveland café, Banda fears college may not happen for her.

Tuition cost is a key difference
"Because of all the immigration issues and the international issues, I would be satisfied with any place that's decent. I just want an education, that's it. I don't care where it's from, I just want an education."

Banda is a DACA student. She can now get a Social Security number and legally work and study in the United States. But she's not on a path to citizenship. And many universities consider her an international student even though she's lived in Cleveland for almost a decade.

For example, Miami University admitted her, but would charge her more than $40,000 a year – more than double what in-state students have to pay. Federal student aid and work programs are out of the question; DACA students are ineligible. Same goes for a lot of scholarships.

"I applied for a lot of different scholarships, but a lot of them I couldn't do because I'm not a citizen," she says. "A lot of scholarship,s the requirements were you had to be a citizen or a permanent resident."

Altering expectations
Banda's had to adjust her expectations. She's looking at going to a more affordable school, like Cuyahoga Community College.

"Even if I have to do Tri-C for two years, that's fine with me and then I can transfer to Cleveland State," Banda says. She'll be content as long as she gets a four-year degree "so I can get my masters and a Ph.D. because I really, really want a PhD one day."

In-state changes are slow coming
A dozen states allow undocumented immigrants to qualify for in-state tuition. They must have lived in the state for much of their lives and graduated from a high school in that state.

State Sen. Charleta Tavares co-sponsored an Ohio version of the DREAM Act last session, but it went nowhere. She hopes to reintroduce the Tuition Equity Act – in the next few weeks. It would allow undocumented immigrants perusing citizenship to qualify for in-state tuition. In the meantime, Ohio colleges are left to figure out how to handle students like Banda on their own.

Miami University spokeswoman Claire Wagner says schools have had no guidance from the state.

"That I think is where we are left, somewhat unclear with the deferred-action students," she says. So schools have been using a chart written by the Board of Regents that details how to handle various immigrant students. That chart is seven years old and out of date.

So Miami, like many other colleges, considers DACA student's international. "For us, the factor really falls down to the tuition level that's available for a student in that situation."

Helping to educate on DACA
Lauren Burke is an immigration-rights lawyer in New York City. She runs a YouTube channel with tips on immigration. She gets a lot of questions from DACA students hoping to attend college. Many, she says, are flat-out rejected.

"I think unfortunately a lot of schools are passing the buck. They're sort of not wanting to deal with the issue and so they're sort of saying, 'We can't admit you without thinking about ... the case in legal circumstances but also what's the case of a majority of students."

While states and universities struggle with the legal complexities, students like Banda are left watching their friends go off to college while their own future remains unclear.

"I just want to be at a university this fall, or a college, or a community college, I just want to be learning something."

Banda has gotten some help. The Cleveland Plain Dealer profiled her as an outstanding student. That led some Miami Alums to offer assistance. But not every DACA student gets a write-up in the newspaper.
---
---
---
Stories with Recent Comments