"The Kings of Summer" has nowhere near the $150 million-plus budget that "Captain America" has. But most of that action flick will be shot in Los Angeles. All of "The Kings of Summer" was shot on the North Coast.
"One hundred percent," says producer Tyler Davidson, including Cleveland and a dozen suburbs.


Like "Captain America," his movie received the new Ohio Motion Picture tax credit. It came to almost a half million dollars on a budget that Davidson will only say was under $5 million.
"We stretched the dollar very far on this one. It looks like it could have been made for two to three times that." Being a native Ohioan, he says, helped because he knows some of the secrets, "where I can call in favors, ... who's film friendly here, who's not."
The look and feel of Ohio
The movie was filmed using a wide screen 2.35:1 aspect ratio, unusual for a comedy, but better at capturing the lovely wooded Ohio landscape.
One of Davidson's recent films, "Take Shelter," was a brooding psychological thriller that was filmed in Lorain County to take advantage of the big sky in the flat landscape of north central Ohio. It won the critics award at the Cannes Film Festival in 2011.
The 38-year-old Davidson produced his first film when he was just 22. But then, when he was only 8 or 9, his grandmother was showing him Alfred Hitchcock movies. And his mother took him to art house films.
"One thing she always did as a punishment – she would laugh about it – but her punishment to me when I would get "grounded" was to force me to go to movies with her, to the Cedar Lee [theater]."

A comedy with heart
Davidson became a very hands-on producer, who gets involved in the creative aspects of his films. "Kings of Summer" is a mix of comedy and drama and it's the first feature film for writer Chris Galletta and for director Jordan Vogt-Roberts. The two main characters are teenage boys who are so exasperated with their parents that they run away and build a cabin in the woods.
"We wanted to make a real movie that was a comedy but had real emotion and heart to it. And one thing we talked about a lot were the early Spielberg films, the Amblin movies, "Goonies" and movies like that."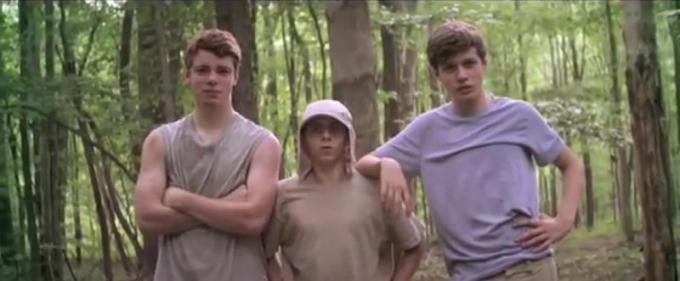 One of the parents is played by Nick Offerman, who's best known for playing Ron Swanson on the TV show "Parks and Rec." His real-life wife, Megan Mulally, plays the parent of another of the boys. It's aimed at teenagers and carries an "R" rating due to a surprisingly crude curse word used in one scene.
Sunshine and Ohio
The owner of the script is Big Beach Films, maker of "Little Miss Sunshine." Davidson had to convince them that "Kings" should be filmed in Ohio.
"I remember specifically referencing the films of John Hughes, which are set in the Chicago area. There's something about the Midwest that to me is very universal."
For a movie about teenage angst, movie goers outside Northeast Ohio will probably assume the name Chagrin Falls was made up for the joke. But it's also the hometown of "Calvin & Hobbs" creator Bill Watterson. Davidson says when his director found that out, he wanted to track down the reclusive cartoonist and get his blessing for the film.
Davidson quotes Watterson: "People who are nostalgic for childhood probably have no memory of it."

And that funny but bittersweet struggle of the teen years is a focus of this movie.
No explosions no car crashes
Rather than shutting down major Cleveland expressways, "The Kings of Summer" only closed a hiking trail or two. It was mostly filmed in the Cleveland Metroparks and the Cuyahoga Valley National Park.

In 26 days of shooting they experienced only one rain-out but it did force them to lose a planned location. Because Galletta was with the crew, he and Vogt-Roberts and Davidson adapted by rewriting the scene overnight.
"Jordan was very gracious and generous in terms of collaborating with Chris on the set. ... Chris would constantly say that. He was very appreciative of the opportunity he had to be part of it, but really that was his own doing.He was just such a positive presence."
The actual cabin in the woods was built on private property but it's no longer standing.
"We talked half-jokingly that maybe if the film broke through, it could be like the "Christmas Story" house, where we would bring people back into the woods and they walk through this house."
The movie "The Kings of Summer" opens nationwide on Friday.