Loading...



From WKYC.COM / TV 3
Get the latest school closings and delays


Funding for WKSU is made possible in part through support from the following businesses and organizations.
---
For more information on how your company or organization can support WKSU, download the WKSU Media Kit.

(WKSU Media Kit


)
---

Education



Tuesday, June 4, 2013




Ohio State University President Gordon Gee abruptly retires




OSU's president is known for his trademark bow-tie, high salary and off-the-cuff remarks




Story by

LYNDSEY SCHLEY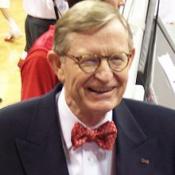 Ohio State's 14th president, E. Gordon Gee, calls it quits after his latest gaffes.
Courtesy of Wikipedia
Download (WKSU Only)
In The Region:
Ohio State University President Gordon Gee is retiring, after coming under fire for comments he made about Notre Dame and other schools.
At a meeting of the school's Athletic Council in December, Gee said of Notre Dame, "You can't trust those damn Catholics" and poked fun at the academics at Southeastern Conference schools and the University of Kentucky.
When that became public last week, it set off a firestorm and led to his being put on notice by the board of trustees. One more mis-statement, the trustees warned, and he could be fired.

Instead, in a statement released today, Gee said, "I have decided it is now time to turn over the reins of leadership. It is also time for me to re-energize and refocus myself."

Which means he's retiring on July 1.

From Poles, to governors to Little Sisters
The statements to the Athletic Council were the latest in a string of gaffes by Gee. He insulted some Polish-Americans when he said that coordinating the departments of Ohio State was like coordinating the Polish army. He's also insulted the Little Sisters of the Poor (which he didn't realize was a real organization), the governor and the former head football coach at Wisconsin.
Gee is one of the highest-paid university presidents in the country. His total compensation for this year was $1.9 million. He's served two stints at Ohio State, back in the 90's and again from 2007.
Page Options

Print this page

E-Mail this page / Send mp3

Share on Facebook
---
---
Stories with Recent Comments