Loading...


Environment



Tuesday, June 4, 2013




Where there's smoke there is fire, but its below ground level




Site near the Shenango Wilderness area was first used for disposal in the 1970s and no one is sure just what may be in its deeper levels of refuse and junk


by WKSU's TIM RUDELL


Reporter
Tim Rudell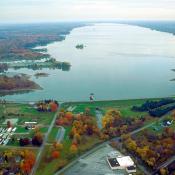 Mosquito Lake State Park, a few miles east of the dump site...which is also right outside the Shenango River Wilderness area
Courtesy of Commons Wikipedia.com
Download (WKSU Only)
In The Region:
A Trumbull County dump is still smoldering from a fire that broke out over the weekend. For the past two days, local responders and the U.S. EPA have been working to bring it under control. WKSU's Tim Rudell reports on how they're doing
Countryside Salvage on Orangeville-Kinsman Road is two miles from the Pennsylvania line in northern Trumbull County. It's an old quarry used for forty years to dump construction debris, remnants of demolished mobile homes, tires and industrial scrap. For reasons still unknown, a swath of the dump several hundred feet across and up to a hundred feet deep began burning Saturday.

EPA takes lead
The U.S. EPA sent in a team to help deal with the fire And field coordinator Trish Edwards said when 70,000 gallons of water from fire hoses couldn't put it all the way out., "We decided to smother the fire with a cap of clay over the area that is smoldering." Graders, bulldozers and a dump truck are being used to do the job.

Edwards says site monitoring for dangerous pollutants in the smoke or escaping in other ways from the fire began Sunday and will continue as long as needed. She expects the capping to be done by Wednesday evening.
---
---
---
Stories with Recent Comments