Loading...


Education



Tuesday, June 4, 2013




Ohio State's Gordon Gee never quite kept his "rhetoric" promise




OSU president abruptly retires after dust-up over "damn Catholics" and other comments


by WKSU's JEFF ST. CLAIR


Reporter / Host
Jeff St. Clair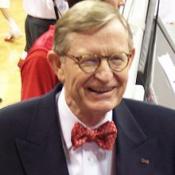 Ohio State President Gordon Gee had promised he'd reform his rhetoric when he returned to Ohio State in 2007.
Download (WKSU Only)
In The Region:
Ohio State University President Gordon Gee is retiring at the end of this month. The announcement comes less than a week after AP reported on the controversial comments Gee made at a university Athletic Council speech in December. The speech said Notre Dame never was invited to join the Big Ten because you can't trust the "damn Catholics." He also took a swipe at the academic levels of Southern universities. when the comments were made public, he said they were a poor attempt at humor. Ohio State's trustees in March reprimanded Gee, warning him to tone down his public remarks or face dismissal. Gee was president at Ohio State from 1990-1998. He returned to OSU in 2007, and told the Akron Roundtable in 2008 that he had quieted his rhetoric after tenures at Brown and Vanderbilt.
"I tell everyone I am now taking the academic equivalent of the Hippocratic Oath, which is to first do no harm."
In his retirement statement, Gee says he's decided "to turn over the reins of leadership," and that he will take time "to reenergize and refocus."
The 69-year-old Gee was one of the highest earning university presidents in the U.S. and held the top posts at five universities during his career.
---
---
---
Stories with Recent Comments