Loading...


Courts and Crime



Wednesday, June 5, 2013




UPDATE: Police believe Perez package contained marijuana




Rocky River police worked with the U.S. Postal Inspector and the Westshore Enforcement Bureau after tracking a suspicious package


by WKSU's JEFF ST. CLAIR


Reporter / Host
Jeff St. Clair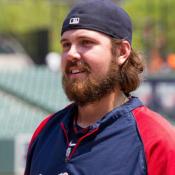 Indians closer Chris Perez is under investigation after police on Tuesday seized a package of drugs delivered the his rental house in Rocky River. Police have not revealed what kind of drugs were found. No arrests were made, but police say charges could be filed after lab tests are completed.
Courtesy of Keith Allison, CC flickr
Download (WKSU Only)
In The Region:
Indians relief pitcher Chris Perez is being investigated after a package believed to contain marijuana was delivered to a house he and his wife are renting in Rocky River. Police executed a search warrant Tuesday and retrieved the package. No arrests were made. Chief Kelly Stillman says the investigation was initiated by a postal inspector and involved a local narcotics task force.
"The U.S. Postal Investigative Service was involved and they have a protocol that they do. It probably was a progression of events that something was delivered to the Post Office that they felt was suspicious and they took it from there."
Stillman could not say whether the package was addressed to Perez. Police believe the drug to be marijuana, but are awaiting lab confirmation before charges could be filed. Perez is currently on the Indian's disabled list with a shoulder injury.
---
---
---
Stories with Recent Comments