Loading...



From WKYC.COM / TV 3
Get the latest school closings and delays


Funding for WKSU is made possible in part through support from the following businesses and organizations.
---
For more information on how your company or organization can support WKSU, download the WKSU Media Kit.

(WKSU Media Kit


)
---

Ohio



Thursday, June 6, 2013




Ohio Senate passes its two-year budget




More money for education, tax cuts for business, but no expansion of Medicaid


by WKSU's M.L. SCHULTZE


Web Editor
M.L. Schultze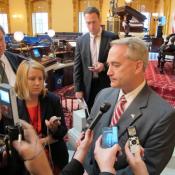 Ohio Senate President Keith Faber is questioned by reporters after the Senate passed its version of the two-year state budget.
Courtesy of KAREN KASLER
Download (WKSU Only)
In The Region:
UPDATE: Democratic response to the budget.

The Ohio Senate now has its version of a two-year state budget, with a spending plan totaling nearly $62 billion. Republicans are touting the budget for its small-business tax cuts and education spending. The budget increases state aid for K through12 education by more than $700 million, including setting up a special fund for grants to encourage innovation and efficiency. But Democrats are panning the budget, in large part because it does not expand Medicaid. After the bill passed, Akron's Sen. Tom Sawyer said expanding Medicaid is "the greatest way we could have provided for the health and well-being of Ohioans." He also says the education funding falls short of what schools need. Gov. John Kasich, a Republican, has said he'll keep pushing for Medicaid expansion. The bill now goes to the House of Representatives, which has passed its own version, and is expected to be sent to a conference committee to come up with an agreement. The governor will need to sign a new budget by July 1.
---
---