Loading...


Courts and Crime



Wednesday, June 12, 2013




Ariel Castro's lawyer suggests a plea if the death penalty isn't in the mix




Accused kidnapper, rapist pleads not guilty in Cleveland courtroom to 329 charges


by WKSU's M.L. SCHULTZE


Web Editor
M.L. Schultze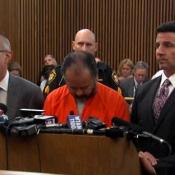 Ariel Castro kept his head down throughout his arraignment. His lawyer, Craig Weintraub (right) indicated a plea deal could be worked out if the death penalty were not part of the case.
Download (WKSU Only)
In The Region:
Ariel Castro pleaded not guilty to more than 300 charges of murder, rape and kidnapping in a Cleveland courtroom today. The man accused of abducting and imprisoning three women for 10 years kept his head down throughout the brief arraignment in a room packed with national and local media. The charges include aggravated murder. Castro's accused of starving and beating a woman to force her to miscarry, and Cuyahoga County prosecutors are pushing for the death penalty. At a press conference after the arraignment, Castro's attorney Craig Weintraub indicated that, but for the death penalty, Castro may be willing to plead guilty.
"We are very sensitive to the emotional impact that a trial would have on the women, their families and this community. Mr. Castro currently faces hundreds of years in prison with the current charges, and it is our hope that we can continue to work towards a resolution to avoid having an unnecessary trial about aggravated murder and the death penalty."
The three women Ariel Castro is accused of imprisoning are Amanda Berry, Gina DeJesus and Michelle Knight. All were in their teens and early 20s when they disappeared from west-side Cleveland streets. They were not seen for a decade, and escaped May 6.
The case has been assigned to Cuyahoga County Common Pleas Judge Michael Russo, and the first pretrial will be next Wednesday, and Castro will continue to be held on $8 million bond.
---
---
---
Stories with Recent Comments