Glen Nekvasil of the Lake Carriers Association says the water levels in the Great Lakes have been below average for 13 years and 2012's draught conditions really accelerated the problems. The shipping industry has a formula: for each inch of what called draft – how deep in the water a cargo ship can sit – a ship gains or loses 50 to 200 tons of cargo.
"And unfortunately, with the way the water levels have gone down on the lakes, we're not talking about losing inches of draft, we're talking about losing feet of draft. As a matter of fact, a ship that came into Cleveland here came in about two feet short of its draft, so that meant it lost more than 4,000 tons of cargo."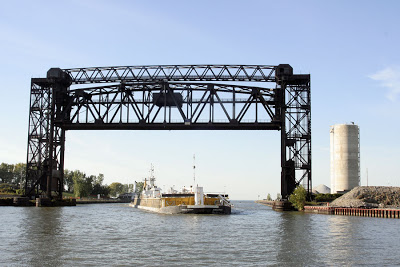 That's costing the shipping industry, he says, and will cost its customers, including steel mills and power plants that get massive amounts of iron ore and coal.

"We can't give them the best freight rate. And in periods of peak demand, there can be concerns about whether they're going to get enough cargo to meet their needs."
A push to dredge
Nekvasil says the solution is dredging the Great Lakes channels to the standards already approved by Congress. That's supposed to be funded by the Harbor Maintenance Trust Fund, which takes in about $1.6 billion a year. But he says only about half of that is being spent on dredging.

He estimates 18 million cubic yards of sediment need to be dredged.
Other alternatives are few, he said. Shippers don't have spare ships to split the loads. And "you cannot make your ship really go any faster. … You can't really load them any faster or discharge them any faster. Everything has been … designed to its most efficient level. So it's really about dredging and getting more cargo on the boat each trip."
Glen Nekvasil says separate bills to spur the dredging are pending in both the House and Senate, but no bill has passed both chambers.