Loading...


Courts and Crime



Wednesday, June 12, 2013




Ohio's Supreme Court says David Millan's sentence was OK




Head of investigative task force says Millan's Evergreen Corporation targeted minorities, low income families


by WKSU's TIM RUDELL


Reporter
Tim Rudell
In The Region:
A one-time Akron entrepreneur was hoping to get out of jail a little sooner after an appeals court said he was improperly sentenced. But, upon further review, that's not happening. WKSU's Tim Rudell reports
Evergreen scandal
Some called it "Evergreen Corporation." Some, "Evergreen Homes." But prosecutors in 2007 said it engaged in fraud. David Willan, who ran it, was found guilty on 68 criminal counts and sentenced to 16 years.
Overturned
He appealed; sixty two convictions were set aside. And, the appeals court said his sentence had to be re-done because the statute prescribing a mandatory ten-year term for engaging in a pattern of felonious behavior—a key to Millan's sentence—is too poorly worded to be applied.
Spirit of the law
Will Huhn of the University of Akron Law department says that can be a Constitutional issue.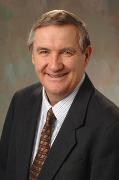 "The lesson the 14th amendment is that the law must be fair. "The law cannot be ambiguous. If a criminal law is susceptible to two different meanings, then the meaning is chosen that goes against the state."

SUPCO
But, Ohio's Supreme Court heard an appeal of the appeal and ruled that while the law does not appear to be very well written—in fact, it includes a 307-word sentence—is nonetheless functionally clear. Willan's sentence stands.

More appeals?
Willan's lawyer, Andrea Whitaker of Akron told WKSU: "We will continue to do everything we can to reverse this unjust result." She did not indicate what form further action may take.

Investigators
Summit County Sheriff Steven Berry headed the Summit County Fraud Task Force that investigated the Evergreen case. He told WKSU that despite many charges being whittled away in the appeal process, the main felonies that proved the "pattern of felonious behavior" remained in place, and so the ten year mandatory sentence for that crime rightly remained in place too.
---
---
---
Stories with Recent Comments