Loading...


Courts and Crime



Thursday, June 13, 2013




Suspect chose to stand trail; and lost


Others arrested entered guilty pleas last year, but Joshua Stafford's case was delayed while psychologists evaluated his com
by WKSU's TIM RUDELL


Reporter
Tim Rudell
Joshua Stafford of Cleveland. Prosecutors said he helped plant explosives against columns of the Rt. 82 bridge
Courtesy of FBI file photo
Download (WKSU Only)
In The Region:
It may just be a coincidence but 911 will be the sentencing date for the last of five suspects in a scheme to blow up a northeast Ohio bridge — a plot that was actually an FBI sting. The accused co-conspirator was found guilty by a Federal Court jury for attempting to use weapons of mass destruction in terrorist acts. WKSU's Tim Rudell reports from Akron.
Speaking for himself
Twenty-four-year old Joshua Stafford of Cleveland -- angular but stooped, with a shoulder-length shock of hair -- clung to the podium as he began his final argument to the jury.
Stafford was accused of attempting to use a weapon of mass destruction – explosives -- on the Route 82 bridge over the Cuyahoga River. He opted to defend himself in court , and shifting nervously from foot to foot, spoke in halting, scattered phrases about intentions and about what he knew. "How," he said, "could someone intend to do something if he wasn't successfully told about it?"
He said if jurors listened closely to the recordings they would realize that he never knew exactly what was going on. He further argued that while he was present when jokes were cracked about blowing up the bridge, he didn't take any of that seriously.

Prosecution
But in his closing arguments, assistant federal prosecutor Duncan Brown said the evidence, including recordings, shows Stafford and the others placed what they believe to be explosives near the foundations of the bridge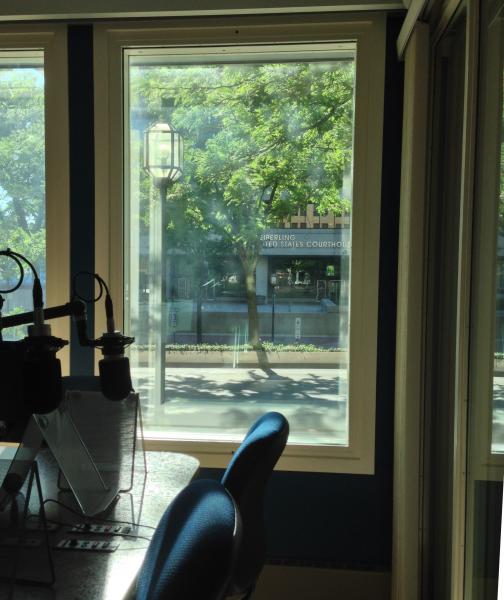 . Even though the bombs were fakes provided by an FBI informant, Duncan said Stafford and others believed they were real and "guilty" can be the only verdict.

And, the jury did.
After less than two hours of deliberation, the panel found Stafford guilty on all three counts.

Co-conspirators
The other four men accused in the bomb plot entered guilty pleas to various charges last year
and got sentences of from six to eleven years.

Federal Judge David Dowd said after the verdict was announced that there will be an approximately ninety day period for gather sentence recommendations for Stafford, with his sentencing set for September 11, 2013. Twelve year to the day since the most dramatic terror attack ever in the United States.
---
---
---
Stories with Recent Comments