For the first part of our StateImpact series, "Grading the Teachers," click on the following links:
http://stateimpact.npr.org/ohio/2013/06/16/grading-the-teachers-how-ohio-is-measuring-teacher-quality-by-the-value-added-numbers/
http://stateimpact.npr.org/ohio/2013/06/16/grading-the-teachers-most-effective-value-added-teachers-say-high-scores-happen-by-focusing-on-the-kids/

Schools get rated based on how well students perform on standardized state tests, but teachers do not. Their main evaluation comes from observations of their classrooms by a principal. An usually, that's quite brief. Almost no one fails.
The new value-added measurement Ohio is phasing in aims to gauge how much a student learns from one year to the next and how much an individual teacher contributed to those results.
Matt Cohen is chief research officer at the Ohio Department of Education.
"If we say that teachers are very important to the instruction, to the learning of kids, ... than there should be a connection."

And that connection is called "value added."
John White works for a North Carolina statistical analysis firm that Ohio hired to interpret its new value-added numbers.
"Teacher value-added uses all available student-testing history and links the individual students that are connected to teachers in specific subjects and grades to measure the amount of progress those students are making."
About "Grading the Teachers"
This three-day series about Ohio's new way of measuring teacher performance is the result of a partnership between The Plain Dealer and StateImpact Ohio, a collaboration of public radio stations WCPN, WKSU and WOSU. StateImpact reporters Molly Bloom and Ida Lieszkovszky worked with Plain Dealer reporter Patrick O'Donnell and Plain Dealer data analysis editor Rich Exner to produce these stories.

The series:
Sunday: What is value-added and why does it matter?
Monday: Are Ohio's "best" teachers paid accordingly?
Tuesday: Are teachers at high-poverty schools at a disadvantage in these ratings?
Meeting projections
Thehe model predicts how much improvement students should make based on past results. If a student ends up performing better than predicted, the teacher gets the credit with a high "value-added' grade. But if the student scores lower than expected, the teacher gets the blame -- and their own low grade.
Eventually, this grade will be a major component that determines a teacher's pay and employment.
"We're basically measuring whether or not they maintained their same relative position with respect to the statewide student achievement from one year to the next," explained White.

A trend in the early results
An analysis by StateImpact Ohio and the Cleveland Plain Dealer found that most teachers fall in the middle of the rankings. But here is the more interesting trend:
Students in wealthy districts are three times more likely to have teachers with the highest value-added scores. And students in high poverty schools? They're more likely to encounter teachers rated "least effective."
Or, put another way, teachers in poorer districts overall aren't doing as well as their peers in richer districts at adding a year's worth of knowledge.

Other measures may help -- or not
Matt Cohen of the Ohio Department of Education says student test scores aren't the only thing that matters. Classroom observation and other tools will determine a teacher's final evaluation.

"To say that a teacher's very low on value-added doesn't in-and-of-itself tell you that's a bad teacher. We can't say that. And we're not trying to say that. We are trying to say that's a piece of information that a teacher, and the school should make use of."
Some teachers who've been part of this experiment don't find a lot of comfort in that caveat. Maria Plecnik says her bottom-ranking value doesn't square with her experience. Plecnik is a seventh-grade English teacher at Forest Park Middle School in Euclid, a suburb of Cleveland.
"Bosses told me they find me very effective; colleagues tell me I'm effective; students tell me effective," she says. "The only person who doesn't find me effective is the state of Ohio, who has never stepped foot in my classroom."
Plecnik quit teaching this year.
Some teachers see some value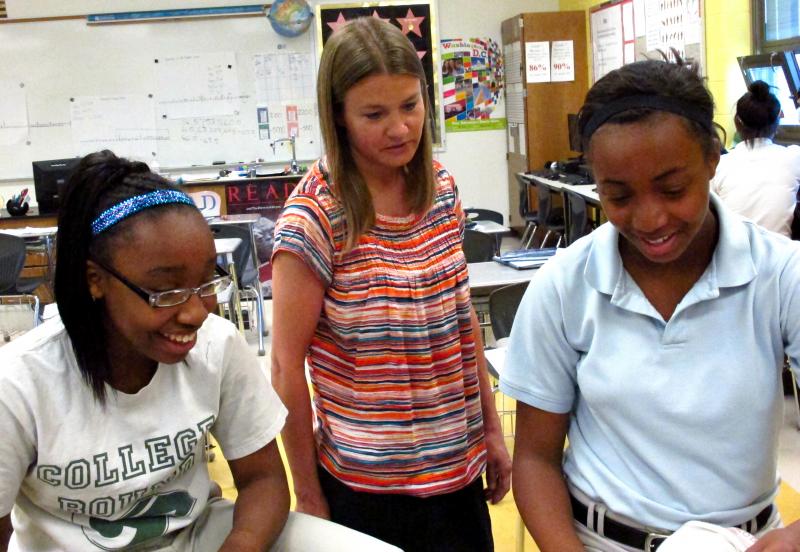 Other teachers have taken the news more positively. Emily Brown is a Toledo teacher who saw her ranking slip from most effective to average last year. But she says she's not discouraged, and the results from value-added may be useful.
"How (else) are you going to know if they gained anything?"
Tomorrow, we'll take a look at the connection between pay and performance. Hint: It's not much.

For more from Part II of our series, "Grading the Teachers," click here: http://stateimpact.npr.org/ohio/2013/06/17/grading-the-teachers-analysis-shows-little-connection-between-pay-and-value-added-performance/#more-20857