Loading...


Education



Tuesday, June 18, 2013




Ohio teacher-prep programs rank low in a new study




Only Ohio State receives high rating in report by U.S. News and World Report


by WKSU's VIVIAN GOODMAN


Reporter
Vivian Goodman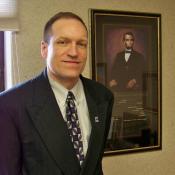 Kent State University Dean Dan Mahony says the study is flawed because it measures inputs and not outcomes.
Courtesy of Jeff St.Clair
Download (WKSU Only)
In The Region:
U.S. News and World Report and the National Council on Teacher Quality today released a report on how well our colleges and universities are training future teachers.

Most Ohio education programs did poorly. The University of Akron, University of Toledo and Kent State University received very low grades for most of their teacher training programs.

WKSU's Vivian Goodman spoke with Kent State Education Program Dean Dan Mahony about the low rankings. Mahony says the report focuses too much on course work and syllabi.
"It's really inconsistent with all the data we look at," Mahony says. "I think the problem with the report and the review is it's all based on inputs and not on outcomes. Our goal is to prepare good teachers who have an impact on students, none of which the review looks at at all."

This is the first national review by the council. It also did studies in Texas and Illinois and most programs there received low rankings, Mahony says. He thinks low scores are common because the reviewers use data that supports their assumptions that programs are bad.

"We look at the outcome data," Mahony says. "When you look at surveys of our graduates, we are very high, well above the state average, on almost every single item they ask about. If you look at the value-added scores of students in the classrooms of our graduates, we again are above the state averages on that. Any of the outcome data that we look at we do very, very well. There really isn't any consistency between what they have as their criteria and the outcomes."

One Ohio university ranks well. Ohio State University had the only graduate secondary education program to earn four out of four stars.
---
---
---
Stories with Recent Comments