Loading...


Courts and Crime



Tuesday, June 18, 2013




Ashland residents arrested in alleged slavery case




Police say they held a woman and her child in their home to cook and clean


by WKSU's KEVIN NIEDERMIER


Reporter
Kevin Niedermier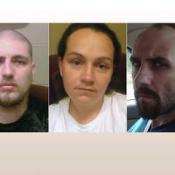 Suspects in the Ashland slavery case, (L-R) Jordie Callahan, Jessica Hunt and Daniel Brown.
Courtesy of U.S. Justice Department
Download (WKSU Only)
In The Region:
Three Ashland residents have been arrested, accused of holding a mentally disabled women and her child against their will for nearly two years. Federal prosecutors say the suspects have been charged with forced labor for making the woman cook and clean for them.

Prosecutors say the woman was threatened and beaten, and her and her child were forced to live in unsanitary conditions. Ashland Police Lt. Joel Eisenhower says the victim suffered a brain injury as a teenager, and now has the mental capacity of a 13-year old. He says the case broke last October when the woman shoplifted a candy bar so she could escape by being arrested. She then told the police about how she was being treated.
"The investigating officer took it further and looked into how she was being treated. That investigation eventually led to a possible child abuse investigation which led to a human trafficking case."
The suspects are Jodie Callahan, 26, Jessica Hunt, 31, and Daniel Brown, 33.
---
---
---
Stories with Recent Comments