Loading...


Courts and Crime



Wednesday, June 19, 2013




Grand jury will consider more charges against accused kidnapper next week




Ariel Castro's attorneys still hope for a plea deal to avert the death penalty


by WKSU's KEVIN NIEDERMIER


Reporter
Kevin Niedermier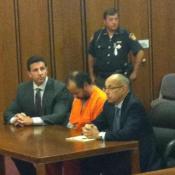 Ariel Castro at his pre-trial hearing today. He's flanked by his attorneys, Craig Weintraub (L) and Jaye Schlachet (R).
Courtesy of Kevin Niedermier
Download (WKSU Only)
In The Region:
The Cleveland man accused of holding three women captive for more than a decade may be facing additional charges.

At Ariel Castro's first pre-trial hearing today, Cuyahoga County Prosecutor Timothy McGinty said more evidence is going to the grand jury, and more charges may be filed next week. Castro is already facing 329 charges of rape, kidnapping, felonious assault and aggravated murder.

The judge has set a tentative trial date of Aug. 4, though the defense can ask for an extension. Castro's attorney, Craig Weintraub, still hopes to avoid a trial by having Castro plead guilty to some charges. And Weintraub says part of the deal is trying to persuade McGinty not to seek the death penalty against Castro for allegedly terminating one of the women's pregnancies.
"The tenor has been that he's very open and receptive to us and understanding our concerns as well as the concerns of the victims in this case, and that's crucial."
Weintraub says he still hasn't seen any evidence proving beyond a reasonable doubt that Castro committed aggravated murder. Another pre-trial hearing has been set for next Wednesday.
---
---
---
Stories with Recent Comments