Loading...


Ohio



Monday, June 24, 2013




Another Goodyear building nominated for the national historic register




Former headquarters joins nearby Goodyear Hall, which was nominated in March; both are slated for redevelopment


by WKSU's KABIR BHATIA


Reporter
Kabir Bhatia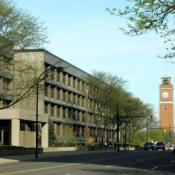 The old Goodyear building will be redeveloped into office, apartment and events space along with indoor parking
Courtesy of Mark Urycki
Download (WKSU Only)
In The Region:
Goodyear's old headquarters building in east Akron could be added to the National Register of Historic Places. WKSU's Kabir Bhatia reports on the building's history and its future.
Just weeks after Goodyear moved into new digs, the old headquarters on Market Street -- known as "Plant 1" -- was unanimously nominated for historic status by the Ohio Historic Site Preservation Board.

It joins nearby Goodyear Hall, which houses a theater and was nominated in March. Both buildings are slated for redevelopment by Stuart Lichter.

"We actually will be renovating the theater as well. And in about a year and a quarter, when the apartments are done, the theater will re-open as an events center for concerts."

Lower levels of the headquarters will serve as parking for the events center while upper levels will be office space.

The oldest portion of the headquarters opened in 1909, and it was used for tire production until 1962 before being converted into offices.

The National Parks Service usually makes a decision on a site within 45 days of getting a recommenddation. And the parks service usually accept a nomination that comes with the state preservation board's imprint.

Also nominated by the historic site board are the Mantua Center School and Green Township High School.


---
---
---
Stories with Recent Comments