Loading...


Economy and Business



Monday, June 24, 2013




High-tech facility rises in the woods of eastern Ohio




Rural eastern Ohio, home to much of the Utica Shale play, is now the scene of major construction projects to create infrastructure for processing and moving products from drilling


by WKSU's TIM RUDELL


Reporter
Tim Rudell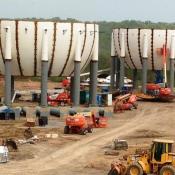 Fractionator plant under construction near Hopedale in northern Harrison County
Courtesy of TPR
Download (WKSU Only)
In The Region:
A big piece of the multi-billion dollar "midstream" infrastructure for Ohio's Utica Shale play is coming on line. WKSU's Tim Rudell reports on the state's first large-scale natural gas processing plant.
Midstream building
Some of the 1.2 mile site about an hour south of Canton in Harrison County is still under construction. But key operations have begun at the huge "fractionator." It's called that because it separates the "fractions" (the different chemical variations) of liquid and gaseous hydrocarbons that come from gas and oil wells.

MarkWest Energy
Rob McHale of MarkWest Energy, a partner in development of the half-a-billion dollar plant, says that this separating of a well's output into transportable and saleable products is how the value the Utica play is tapped. "You start with the methane, for furnaces and water heaters and those good things. Then you've got ethane and propane;

normal butane and isobutane; then pentane and heavier hydrocarbons, and that's why we're building the fractionator at Hopedale."

Big mony in midstream
Overall, MarkWest and its partners are spending nearly two billion dollars on the "mid-stream"—the processing, transporting and marketing—for the Utica Shale play in Ohio.

---
---
---
Stories with Recent Comments