In 2009, the federal government set aside $8 billion to help with the foreclosure crisis in 18 troubled states. Ohio's share of the so-called Hardest Hit Fund was $570 million – the largest award of any Midwestern state and a sign of how bad the crisis has been here.


Bill Faith leads the Coalition on Homelessness and Housing in Ohio, and says the fund has done great work in three years.
"It helped more than 10,000 homeowners stay in their homes, and only 0.5 percent have lost their homes. I mean, I've never seen a program where you only have ... half-a-percent failure rate."
Demolition gets a share?
Faith acknowledges the fund been slow to get started, so there's still about $375 million remaining in it. Andhe says that's allowed advocates on another critical issue in the crisis to set their sights on the pool of money. That other issue is the demolition of thousands of homes that are some of the very visible casualties of the crisis.

When Jim Rokakis was Cuyahoga County's treasurer, he was one of the first officials to warn of the coming foreclosure crisis. Rokakis is now the vice president of the Western Reserve Land Conservancy, and has been appealing to officials at the state and federal level to make money available for teardowns.

"The only way you get ahead of this problem is by aggressively moving after these vacant structures. If you don't, the structures that are not vacant in those neighborhoods will become vacant. That's not even a 'maybe' – that's a 'for sure.' Why would you live in a neighborhood where every other house is vacant? You wouldn't. You'd leave."
Some money is already targeting demos
Seventy-five million came in from to the state the nationwide settlement with mortgage lenders to help with demolition, but Rokakis says abandoned homes are a billion dollar problem in Ohio. Rokakis is getting support from Republican U.S. Sen. Rob Portman, who's proposed a bill that would allow money from the Hardest Hit Fund to be put toward demolition, and sets no limit on how much could be taken from it.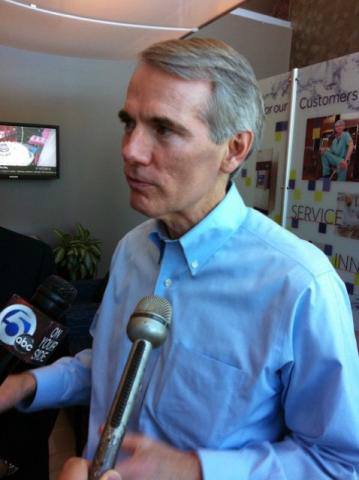 That scares Bill Faith, who says with more than 70,000 new foreclosures in Ohio each year, the crisis isn't over yet.
"Don't go rob Peter to pay Paul. Does it really make sense to add to the demolition load by not preventing preventable foreclosures and adding more stock to those that may fall into vacant and abandoned properties?"
Just a share
Rokakis says he's never asked for all the money in the Hardest Hit Fund, but in a time of government austerity, he says funds for demolition need to be found quickly to slow down the foreclosure crisis that Faith is warning about.

"If we don't deal with these distressed properties, there are parts of Cleveland and Dayton and Toledo and Youngstown that will end up looking like Detroit."
If Sen. Portman's bill doesn't move, it may be up to Gov. John Kasich to decide if the money in the Hardest Hit Fund can be diverted from assistance to delinquent homeowners to tearing down abandoned properties -- and if so, how much.

Michigan just ordered $100 million of its fund for demolition. Ohio's other U.S. senator, Democrat Sherrod brown, has stepped in, asking Kasich to move only as much as a quarter of the remaining Hardest Hit Funds toward demolishing vacant homes.