It's a giant tattoo on the outside wall of the Angel Falls Coffee Shop, designed by Jesse Strother, co-owner of Good Life Tattoos just down the street. It was painted by 12 high-school and eight college students in a two-week summer arts apprenticeship.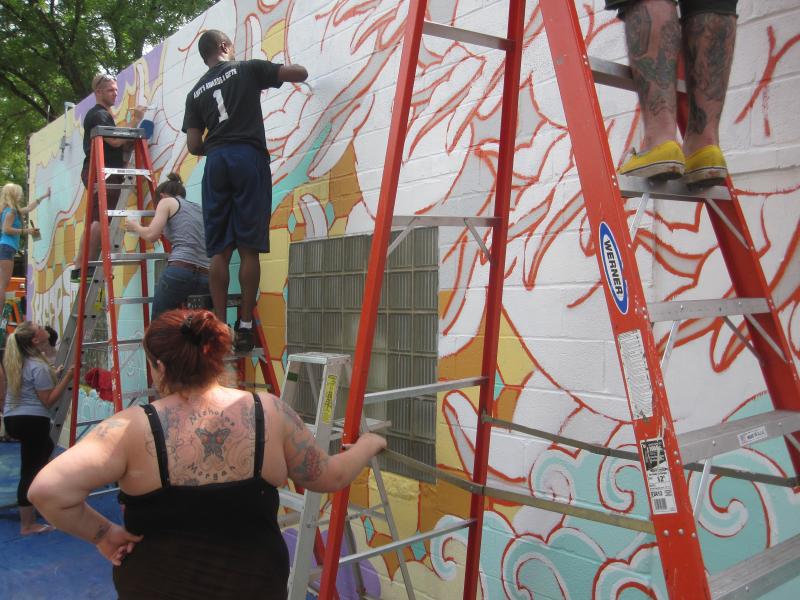 The mural at Highland Square is the eighth project of the University of Akron's ArtsLift program.
Lauren Purkheiser's been watching it take shape. She's attending the Columbus Institute of Art and is now back home in Highland Square for the summer to lead a Lock 3 program in cement casting. Purkheiser says it all began for her as a Firestone High sophomore in the ArtsLift program.
"The first project I worked on was with two printmakers and Keep Akron Beautiful, and it was eight hours in the studio learning how to do print-making and understanding water quality. It was just really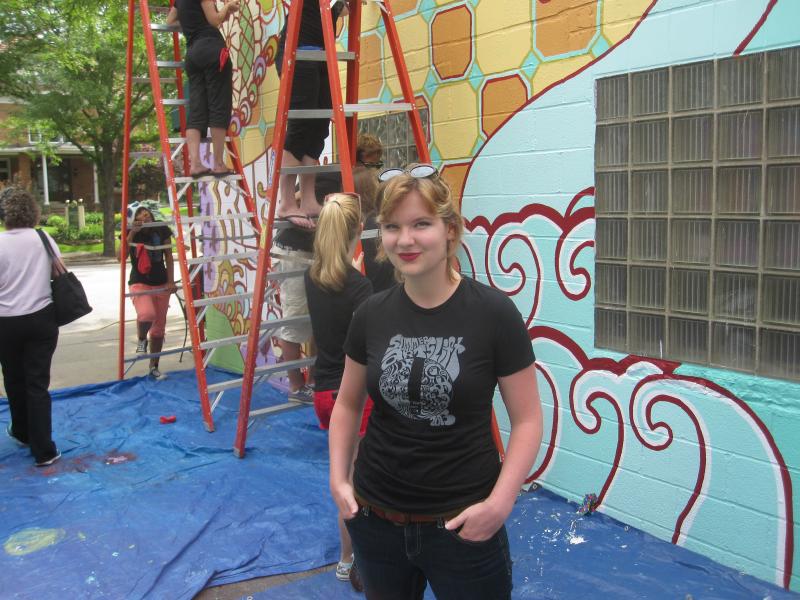 significant in my choice in becoming an artist and a designer."
Last year, coordinator Elisa Gargarella's students made gates for First Congregational Church's community garden.

A long history
All ArtsLift projects are designed to make cultural, economic and aesthetic impact with public art.
But Gargarella says the primary mission is giving students skills, and experience with government, business and media that they can't get in the classroom.
Gargarella says she chose Angel Falls Coffee Shop's wall for the mural because it's a gathering place and a center for the arts. For 17 years, Angel Falls has been a sort of communal living room for a hip, lively part of West Market Street, minutes from downtown Akron.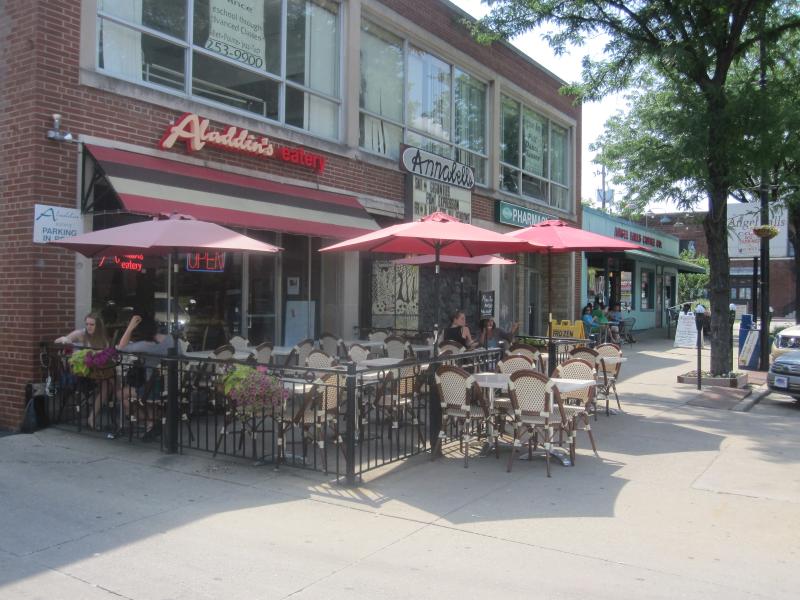 The Highland Theater's on the same block and Annabell's, where the Black Keys used to jam, is two doors down from the coffee shop.
Regulars walk over for coffee and pastries from nearby stately homes as well as art deco-era apartment buildings east of the square and modern high rises west of it.
Publisher John S. Knight once lived in the neighborhood. So did Dr. Bob, the co-founder of Alcoholics Anonymous.
In the more distant past, the Adena and Hopewell Indians carried canoes along nearby Portage Path between the Tuscarawas and the Cuyahoga.
Their totems and those rivers run through the mural's sunny fantasy-scape.
A Buddhist influence
Some of tattoo artist Strother's design is abstract, but you can make out waves, birds, and expanses of sky, and enormous hands waving, beckoning, and welcoming.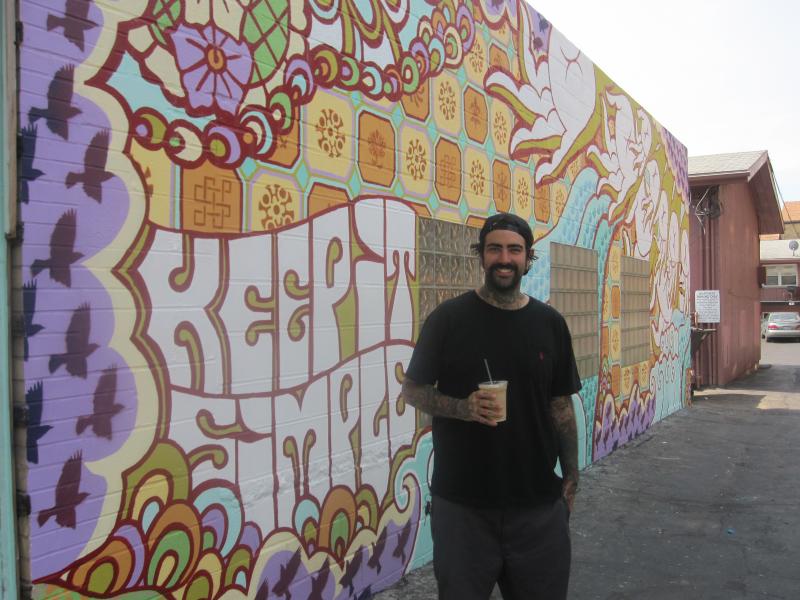 "The hands are taken out of Buddhist imagery. Buddhists acknowledge a third gender and I think with the gay and lesbian population that kind of goes hand-in-hand. And then AA and Dr. Bob,... Founder's Day is a huge thing around here. So we took a slogan of theirs. Just 'Keep it simple' and everyone can relate to that."
Gargarella says Strother's a natural teacher.
"These kids have a new sense of design, color, a new sense of belonging and place in their own communities. The effect has been overwhelming."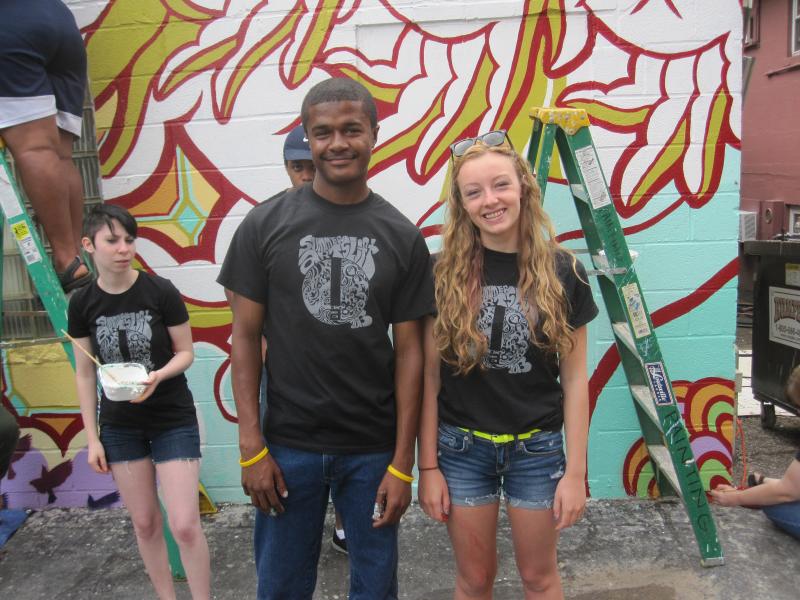 For Firestone High School senior Gary Hearst, it's been two weeks of hot, sweaty but satisfying work.
"I feel like if people understand that children are doing something positive, they're more willing to keep this community clean. And plus it's a very historical site, Highland Square. So being the fact that we're doing this mural also brings a lot more color to the neighborhood and the people around."
He's 17 and plans to major in art in college. "When other people were playing with toys I was busy doodling in notebooks."
Firestone sophomore Carly Chelovitz's been working on the mural, too.
"It's really wonderful. Actually Gary and I have gone to school together for two years and we're just now meeting at this and figuring out we have so much in common."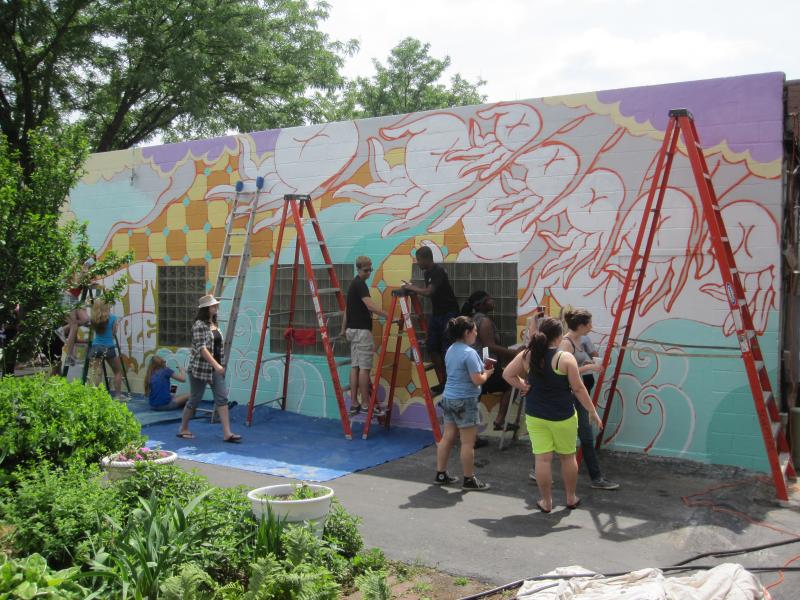 Like the dream of becoming professional artists.
Working alongside University of Akron students this summer may have helped that come true.
"For example, I'm looking at going into the art-therapy field, but I had no idea what my college majors and minors needed to be to be able to go into that profession. And the college students helped me figure that out because they already
had that experience."
New experiences
But creating public art is new for many of the giant tattoo crew.
"This is my first community-based art project and I have actually learned a lot so far," says Katherine Mooney, a senior in the arts education program at the University of Akron.
"Right now, I am kind of fixing some parts of the hand, making it a little narrower so it gives a nice crease. It's supposed to represent acceptance."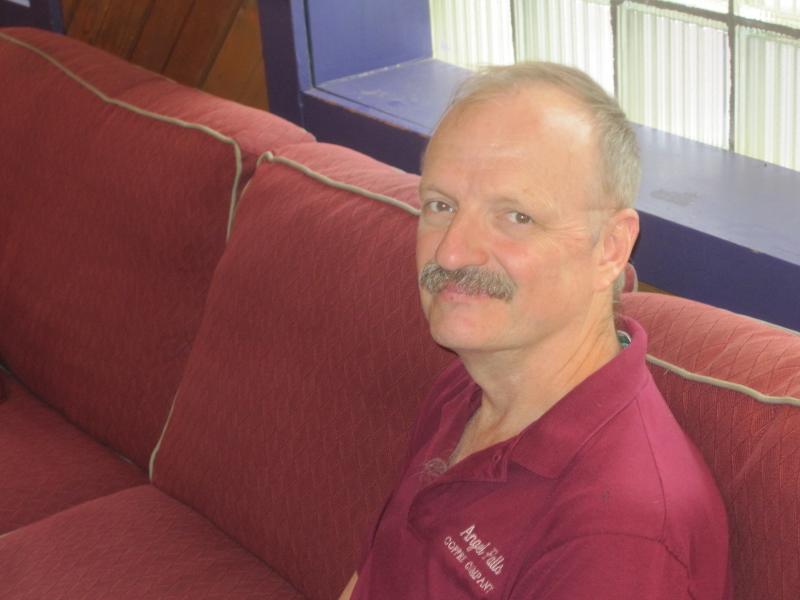 Back at the Falls
Angel Falls Coffee Shop co-owner Jim King was a fugitive from the corporate world when he and his partner Rafael Oletta opened the shop, naming it for the highest waterfall in the world in Oletta's native Venezuela.
Public art is largely suppressed there, but it's something Oletta and King believe in. Besides, many of their customers are artists.
"When you were approached about this project what was your reaction? Well, I said yes right away because I've always envisioned a mural on that wall for the last 17 years and my mother was an artist and a muralist."
She died about two years ago.
"She was an art teacher for the Akron Public Schools, so a big supporter of Akron and a big supporter of public education and the arts. So she would have loved it."
Two weeks ago, before the young painters arrived, the western exterior wall of his shop was drab, dingy missionary block gray. King's brother and one of his employees prepped it for the students to paint.
A first private business
ArtsLift coordinator Gargarella says Angel Falls Coffee Shop is the first private business to lend financial support to the ArtsLift program.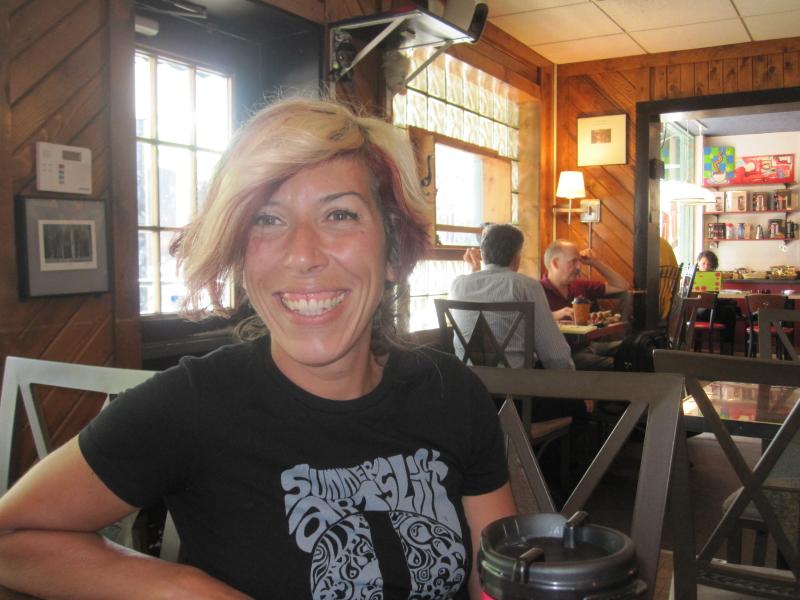 January Paints and Wallpaper and the Highland Square Neighborhood Association also got behind the giant tattoo.
Gargarella is hoping the mural will spark the neighborhood economy and encourage more support for young artists.
"What we do as art educators is transformative, and so it deserves a more public presence to begin with. So taking arts to the streets instead of the refrigerator transforms what happens in school, support for the arts, but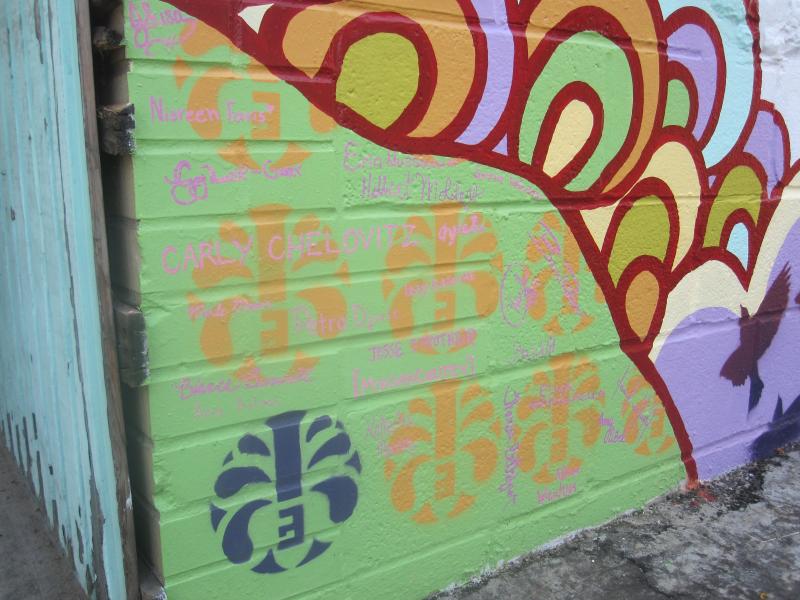 it also changes the lives of the people who are participating."
And it changes the everyday vista for passersby.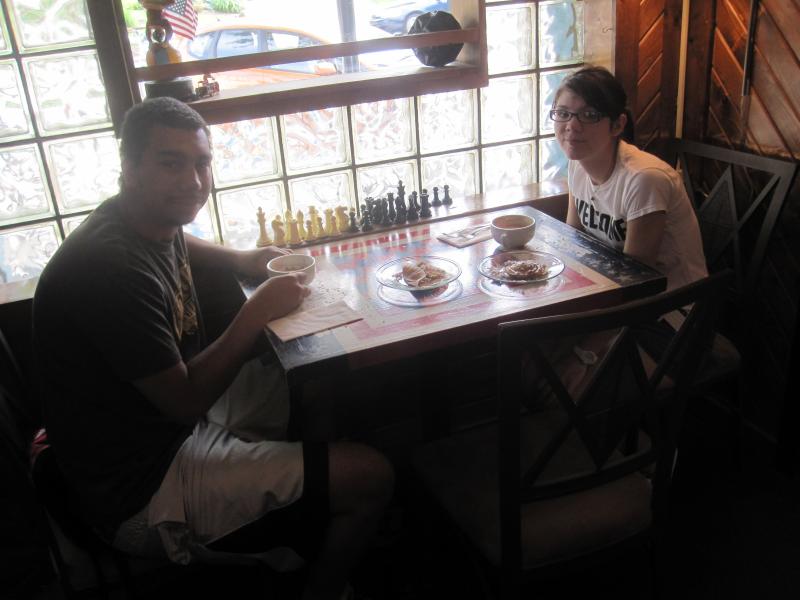 Chelsea Holenchick and her boyfriend Brandon Hines hadn't expected to see a giant tattoo on their way to get coffee this morning.
"I thought it was really cool as we were walking past. I just like how the colors kind of melded together."
Sipping his dark roast at a sunny sidewalk table, Mark Rauckhorst agrees.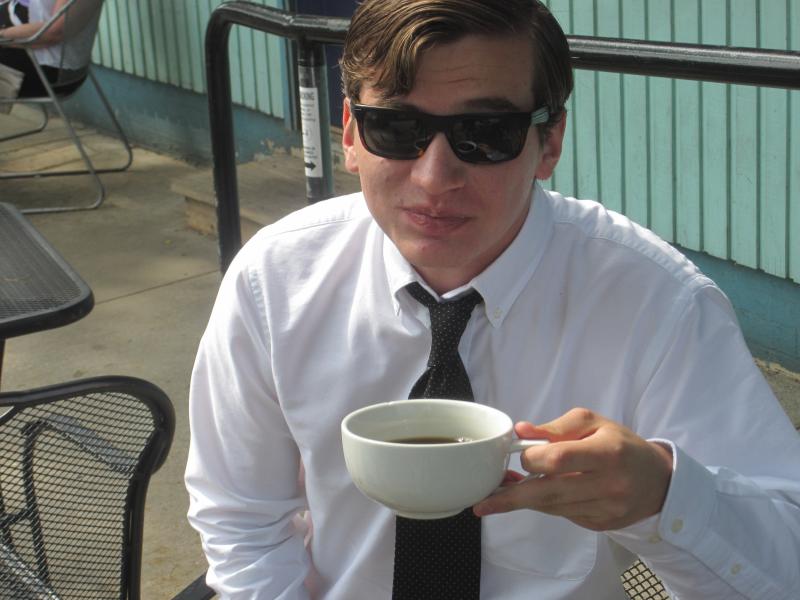 He felt the unity recently when neighbors occupied an ancient ash tree in an unsuccessful bid to save it from a developer's axe.
"There's definitely a real sense of pride that kind of came out in the community. Sitting here watching the protesters across the street, it really gave you a sense of what this community's all about. They really care about just this little corner of Akron."
The eclectic bluegrass band Fast Molasses, a hit at Highland Square's recent PorchFest, will entertain at the unveiling of the mural tomorrow evening starting at 6 with refreshments at Angel Falls.