Loading...


Government and Politics



Wednesday, June 26, 2013




Ohio gay advocates target the state marriage ban after Supreme Court ruling




U.S Supreme Court strikes down DOMA, but same-sex marriage isstill illegal in Ohio


by WKSU's KEVIN NIEDERMIER


Reporter
Kevin Niedermier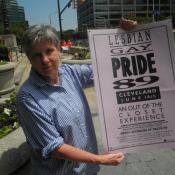 Judy Benson of Lakewood holds a poster from Cleveland's second gay pride celebration 24 years ago. She says things have progressed since then, but Ohio still has a long ways to go.
Courtesy of Kevin Niedermier
Download (WKSU Only)
In The Region:
Ohio's gay community is celebrating today's Supreme Court's ruling striking down the Defense of Marriage Act. But it acknowledges the state has a long way to go. The ruling makes same-sex couples living in Ohio -- but legally married in other states -- eligible for federal benefits and programs. It does not, however, change Ohio's constitutional ban on gay marriage. So today, the gay-rights group "Freedom Ohio" announced it will put an initiative on next year's November ballot to strike down the state ban. Todd Saporito is head of the gay advocacy group Cleveland Pride. During a rally at Cleveland City Hall, he said overturning the Ohio ban means following a simple strategy.
"And that is to reach out to our allies. We are your mothers, fathers, brothers, cousins, aunts and uncles and your employers. So the strategy is as it has always been, to live our lives openly with our allies so people see we deserve the same equal rights anyone else does, and the natural progression just brings those actions to bare."
Not all Ohio gay rights organizations want to go to the ballot so soon.The group Equality Ohio has advocated waiting until 2016 to allow more time to build public Freedom Ohio needs nearly 400-thousand signatures to get the initiative on next year's ballot.
---
---
---
Stories with Recent Comments