Loading...


Ohio



Wednesday, June 26, 2013




Ohio Gov. Kasich on Medicaid, drilling tax, abortion and the state budget




Kasich says he'll look at abortion language closely and isn't done with his push for Medicaid expansion and a drilling tax




by WKSU's STATEHOUSE BUREAU CHIEF KAREN KASLER



Reporter
Karen Kasler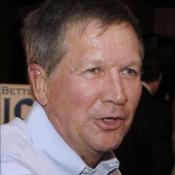 Kasich says he's not giving up on expansion of Medicaid because it makes moral and financial sense.
Download (WKSU Only)
In The Region:
Lawmakers now have the proposed budget from the conference committee and a day to think about it before voting tomorrow . Statehouse correspondent Karen Kasler reports that Gov. John Kasich is weighing in on the document he'll have to sign by midnight Sunday.
Gov. Kasich had proposed an expansion of the state sales tax to fund income tax cuts for all Ohioans and for small businesses, along with Medicaid expansion and a tax on big oil and gas drillers. The sales and income tax items are in the budget lawmakers will vote on tomorrow, but not the last two items. Kasich says he's not done with them yet.
"Let me just be clear...this is not over. The severance tax fight is not over. The Medicaid expansion fight is not over or, you know. We're going to stay on this thing till we get it."
Overall, Kasich says he's pleased with the budget, but won't tip his hand about what he might cross out with a line-item veto. The budget includes abortion restrictions, including one inserted last night that requires abortion providers to give women written notice if there's a detectable fetal heartbeat before the procedure can go forward.
Other options:

Windows Media /

MP3 Download
"These things came late, I've got a few days to look at all of the, including that provision. And, …. everybody should understand I am pro life, but we'll look at all the language and I'll make a decision finally on all this when we get closer to time for me to sign."




---
---
---
Stories with Recent Comments