Loading...


Government and Politics



Thursday, June 27, 2013




Portman balks at immigration bill; accuses leaders of stifling debate




Ohio's Republican U.S. senator says he won't vote for the bill without his amendment


by WKSU's M.L. SCHULTZE


and

AMANDA RABINOWITZ



Web Editor
M.L. Schultze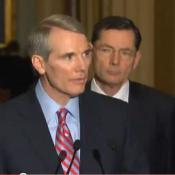 Ohio's U.S. Sen. Rob Portman says he won't vote for the immigration overhaul if his amendment isn't included at least in the debate.
Download (WKSU Only)
In The Region:
Ohio's U.S. Sen. Rob Portman says he will not vote for an immigration bill that does not include his amendment to enhance the federal database employers can use to verify immigration status for employment. And in a conference call today with reporters, he insisted that and other amendments should be debated over the next few days.
"We're not getting the people's work done. We're not allowing senators to represent their states by offering amendments, having a debate, having an up-or-down vote. ... I hope that they will allow me to offer this amendment in the next couple of days here, but if they don't, there's no way I can look my constituents in the eye and tell them this legislation's going to work."
Portman and Senate Majority Leader Harry Reid battled yesterday over the e-verify amendment. Reid said Senate negotiators had offered to include Portman's provision in another amendment, but Portman refused.
---
---
---
Stories with Recent Comments