Loading...


Ohio



Thursday, June 27, 2013




Ohio's Brown and Portman split on immigration bill votes




Portman says rejection of his E-VERIFY amendment made it impossible for him to support the bill


by WKSU's M.L. SCHULTZE


and

AMANDA RABINOWITZ



Web Editor
M.L. Schultze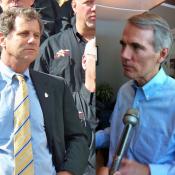 Sherrod Brown joined all other Senate Democrats in voting for the immigration bill. Fourteen Republicans also voted yes, but Ohio's Rob Portman was not one of them.
Download (WKSU Only)
In The Region:
Ohio's two U.S. senators split in the vote today (Thursday) on the sweeping immigration bill. Democratic Sen. Sherrod Brown joined 67 others in voting for it. Republican Rob Portman and 31 others voted no. Before the vote, Portman insisted his objection was not over the 1,200-page bill itself, but because the Democratic leadership wasn't giving proper consideration to his and other's amendments. Portman had wanted to amend the bill to enhance the E-VERIFY system, a database employers can use to check the immigration status of applicants.
"This is the critical issue in my view in immigration reform. It's the critical piece of the puzzle and I've argued that from the very start. The best thing would be to get a vote to send a strong message over the house by a huge bipartisan vote that this has to be in the final package."
But Democratic Senate Majority Leader Harry Reid had said Wednesday that Portman had had a chance to fold his amendment into others, and was grandstanding.
Sherrod Brown supported the bill, though he, too, had offered amendments, including an insistence that special-skills jobs be offered to U.S. citizens first.
---
---
---
Stories with Recent Comments